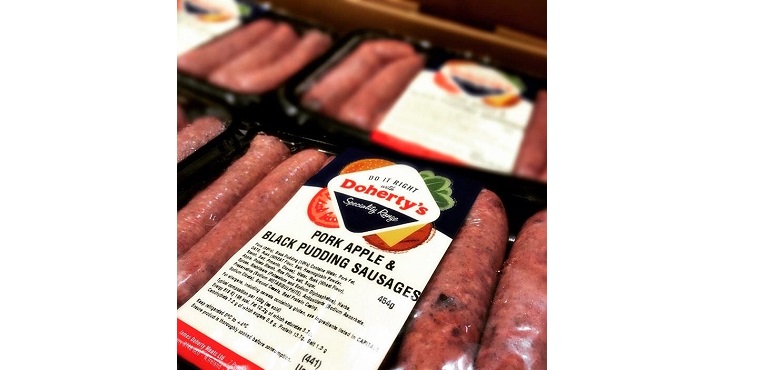 Innovative savoury sausages from Doherty's Meats
Doherty's Meats, one of Northern Ireland's leading family owned meat processors, has launched two unique savoury sausage products.
The company, which is based in Derry, has a successful track record in providing traditional Irish pork sausages, as well as burgers and mince, to major retailers such as Tesco, Sainsbury and Asda, and also supplies Ocado, the on-line retailer in Britain. The company also has a successful range of gluten free sausages.
The company has collaborated with local chefs and craft enterprise to create the new innovative products which are:
Pork, Apple and Black Pudding Sausages; and
Pork and Stout Sausages (with Walled City Brewery Derry Milk Stout).
The Pork, Apple and Black Pudding Sausages were highly praised by top chef Ian Orr, patron and co-owner of the high end Brown's Restaurant in Derry and Ardtara Country House Hotel in Maghera, Co Derry, when he used them for his recent cookery demonstration at the Slow Food Festival in Derry.
The Pork and Stout Sausage is a collaboration with James Huey, the owner of the award winning Walled City Brewery and Restaurant in the city.
The new sausages feature a high pork content – 80 percent – and are available in packs of eight per 454gm as well as in catering packs for hotels and restaurants.
The family business has been in operation in Derry for 150 years and is one of the best known and most respected food brands in the North West of Ireland. It's now the market leader in the area and is also a major supplier of meat products in Donegal in the Republic of Ireland.
Brian McQuaid, Doherty's sales manager, explaining the launch of the new sausages, says: "These highly original products reflect our commitment to innovation as a means of setting us apart in a very competitive market sector and gives us the opportunity to work with other local producers such as Walled City Brewery.
"We were delighted when chef Ian Orr used our Pork, Apple & Black Pudding Sausages in his cookery demonstration at the Slow Food Festival in Derry. Ian was so impressed with the new sausages that he had his "Browns in Town" chef trial them for their menu.
"The Pork and Derry Milk Stout Sausage is the outcome of discussions with James Huey of the successful Walled City Craft Brewery which has won several accolades for its beer and popular restaurant on-site. James was keen on trying a different sausage for his menu using local ingredients, and this is what we arrived at. He was very happy!
"The sausages have also been a big hit at the Walled City Market, with stocks running out every time we've had them on sale! People come back to the market time and again, specifically to get these products, and that is very encouraging for us," he adds.
The popular Walled City Market, at which Doherty's is a mainstay, runs on the first Saturday of every month in Guildhall Square, Derry City.
Doherty's Meats remains family-owned and managed today, and has a heritage in quality meat processing that stretches back over 150 years and six generations. It is widely acknowledged throughout Ireland as one of the leading meat processors.
James Doherty opened his butcher's shop in Derry in 1830. The business was continued by his son and grandson and by 1945 comprised a small retail chain owned by Thomas J Doherty. In that year, James Doherty joined his father in the business and began a process of expansion and development into processed beef and pork products.
Doherty's has BRC Grade A accreditation and operates from a modern HACCP approved processing plant in Pennyburn Industrial Estate in Derry.