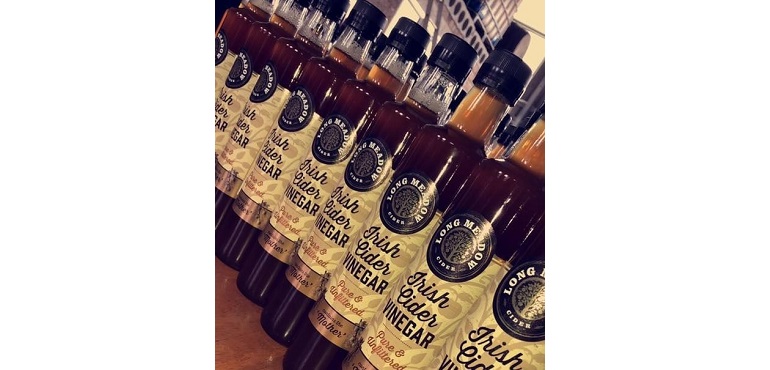 Long Meadow Cider Wins Business From Ballymaloe Foods by Sam Butler for Food NI
Long Meadow, Northern Ireland's award winning cider processor, has won business from Ballymaloe Foods in the Republic for its apple cider vinegar.
Based on a successful apple farm near Portadown in Co Armagh, Long Meadow has supplied its cider vinegar for Ballymaloe Food's popular balsamic vinaigrette products.
Established in 1990 by Yasmin Hyde, Ballymaloe Foods has developed into Ireland's most successful and respected artisan producer of sauces, relishes, chutneys and other innovative foods. The business, which is based at Little Island, near Cork, has close links with the internationally renowned Ballymaloe Cookery School.
Catherine McKeever, commercial director of family owned and managed Long Meadow, says: "We were thrilled when Ballymaloe approached us to supply our apple cider vinegar for use in one of its successful products. It's a marvellous boost to be working with such a prestigious artisan manufacturer in the Republic, a target market in which we've been seeking to develop business.
"The contract for cider vinegar is particularly timely as it came following our decision to invest in a new processing plant which has increased production capacity of a product which is being regarded as providing health benefits," she adds.
Pat and Catherine McKeever founded the cider business in 2013 with son Peter in a farm diversification project to develop a range of cider and juices from apples grown on the family farm at the heart of Northern Ireland's famed 'Orchard Country'.
The McKeever family has been growing apples for more than 50 years on the Armagh farm and had been encouraged to branch out by the feedback from cider enthusiasts across Northern Ireland and from a host of awards including UK Great Taste and Blas na hEireann – Irish National Food Awards. The company also won the Innovation Award for the apple cider vinegar at the Armagh Banbridge and Craigavon Councils business awards.
The company recently achieved SALSA – Safe and Local Accreditation as step towards greater sales in supermarkets and other major retailers.