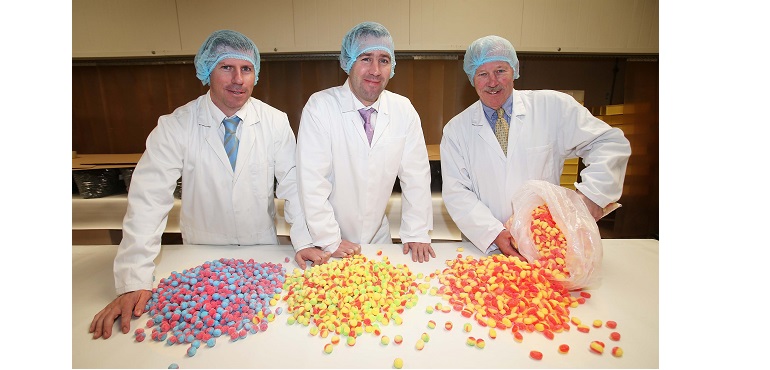 Sweet deal in China for Northern Ireland's Crilco
Crilco Sweets in Northern Ireland has won new business in China which could be worth £200,000 this year with the potential to double sales by 2021.
Based at Newry in Co Down, the family-owned and managed manufacturer, has supplied its branded and bulk wrapped boiled sweets as well as a range of pre-packs to a leading confectionery distributor in Shanghai, Crilly's second major customer in China.
David Crilly, director of Crilco Sweets, commenting on the new business in China, says: "China is steadily becoming an immensely important export market with huge potential for our sweets.
"Our latest customer also has a significant pick and mix business that's very well suited to our established and successful product range. The deal followed our participation at a major trade show for the industry in Shanghai. Our research and frequent visits have confirmed our conviction that China is a huge and growing market for quality confectionery.
"The business there is the latest outcome of our extensive marketing campaign in global markets. In addition to a strong presence in Great Britain, we also sell to customers in the Republic of Ireland, the US, Australia, Germany, Italy, France and the Czech Republic. All our confectionery is produced at our plant near Newry," adds Mr Crilly.
The company, which has been assisted by business development agency Invest NI in the shape of funding to increase productivity and grow sales especially in key global markets such as China, currently employs 22 people. Invest NI's Food and Drink Business Development Team has recently set up meetings for Crilco with various overseas buyers from Hong Kong, Malaysia and Middle East.  
Great Britain remains an important market for the business which has developed a marketing campaign to grow sales there especially over the next 12 months. "We've identified significant opportunities in Great Britain for our product range and are investing time and other resources to expand sales throughout the country," adds Mr Crilly.
Crilco is Ireland's last remaining producer of boiled sweets in Ireland and among a small number in the UK.
In March, the company, which was established in 1974, announced a substantial contract to supply own brand sweets to discount retailer B&M Bargains, which has 600 stores in the UK and Ireland.
The company, which still uses the old traditional methods of mixing sugar and glucose and adding acid and flavours, currently produces 50,000 bags of sweets every day, which equates to a million bags a month.