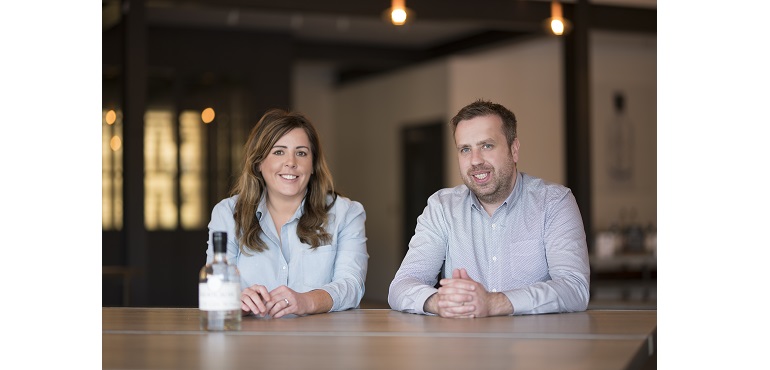 Two Gin Masters for Northern Ireland's Shortcross Gin
Northern Ireland's Shortcross Gin has won two Gin Masters in the prestigious Gin Masters 2019 competition. Shortcross Gin is produced at Rademon Estate Distillery near Downpatrick in Co Down and has won more awards for premium quality and taste than any other gin on the island of Ireland.
Established in 2014, Shortcross, Northern Ireland's original craft gin, is produced by husband and wife team David and Fiona Boyd Armstrong. Shortcross topped the Ultra-Premium 2019 category by picking up two Gin Masters for its original Shortcross Gin and Bartender Series One Edition.
Shortcross is the only gin to pick up two masters in the coveted competition. A Master is the premiere award in each category in the competition. Awards are made on the basis of extensive blind-tastings.
 Shortcross, most recently, won three silver medals in the International Wine and Spirit Awards for its original gin, Bartenders' Limited Edition and Rosie's Garden Pink Gin.
Shortcross Managing Director Fiona Boyd Armstrong, says: "With more than 300 expressions entered into this year's Gin Masters, from around the globe, competition was very tough. With 30 shortlisted competitors within our category Shortcross Gin received two out of the five gin masters awarded. No easy feat!
"We were thrilled by the citation from the judges which described Shortcross as "smoothness in abundance! Great mix of sweet and saline. On the nose; orange/blood orange and juniper dominant, a great mix! Our Shortcross Bartender Series One was also celebrated for its "prominent juniper nose.
"The judges added that it was a great quality alcohol, with great balance, herbal spice and a lovely classic nose. The awards are a marvellous endorsement of our gins and will support our global marketing activities. Shortcross is currently exported to more than 30 nations," she adds.
Shortcross Bartender Series One Gin, introduced in 2017, takes its 5th award in just two short years. Rademon Estate Distillery now has four Shortcross gins in its inventory - Classic, Bartender Series One, Cask Finish and Rosie's Garden Gin, the most recently launched.
Earlier in the year, Shortcross Gin and Shortcross Bartender Series One gained silver medals at the San Francisco World Spirits Competition along with a celebration at the Northern Ireland Food and Drink Awards.  The company is also maturing a new single malt Irish whiskey.
The annual World Gin Masters is among the world's leading competition for a spirit that continues to grow in popularity. The 2019 competition was the biggest Global Spirits Masters competition in history.
Organised by The Spirits Business the competition celebrated its 10th anniversary in June 2019.will be staging and celebrating 10 years of the global competition.