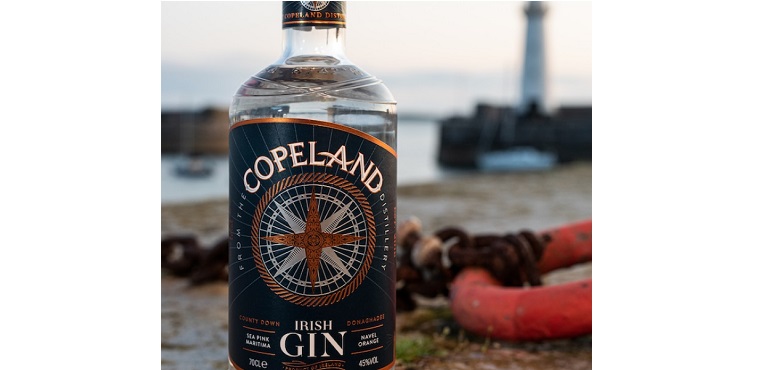 Copeland Distillery launches classic Irish Gin as it completes new distillery
Copeland Distillery in Donaghadee has introduced a new gin which features 12 carefully selected organic wild botanicals including pine needles, cubed berries, orange peel, lemon peel and some locally sourced flora from local islands including sea pink maritima.
The classic Irish gin, the latest product from the company, owned by Gareth Irvine, is launched as it opens a new visitor centre as part of a £950,000 investment. Copeland already has a successful range of fruit-infused gins.
Mr Irvine describes the new gin as "the result is a refreshingly loud yet familiar juniper taste with caramelised orange peel and sweet spice on the nose. Piney juniper follows giving an even more distinctive experience while sweet orange returns with a lingering yet subtle spice".
Already in distribution across Northern Ireland, the new gin will make its debut in the south of Ireland and Copeland's existing territories across Europe, Australia and further afield throughout 2019 and early 2020, joining its acclaimed flavoured version in off-sales and on-trade.
Copeland has also revealed a new brand identity to further cement its connection to Co. Down's coast. It features a bespoke corked bottle with a prominent compass feature derived from an historic chart of the Copeland Islands.
Earlier this year, the Copeland Distillery announced it has taken the first step in its ambitious plans to add whiskey to its spirits portfolio, which will also be influenced by Donaghadee. Using the very best malt and casks and traditional and innovative cask finishes including bourbon, cognac, rum, Amontillado wine and Fino Sherry to deliver depth, character and flavour, all whiskey will be matured at the Distillery beside the coast allowing the sea breeze to seep in and deliver an authentic taste of Northern Ireland in every single sip.
Mr Irvine continues: "Our long-term ambition is to create a world-class, varied portfolio of spirits that offer the consumer, at home and abroad, a taste of Northern Ireland's craftsmanship and history. Our new brand echoes this same ambition and proudly combines our product with local heritage.
"Establishing our permanent home here in Donaghadee, with the Copeland Islands beside us, is a significant step in this journey. With a 125-year lease on the building we envisage being part of Northern Ireland's future spirits story for quite some time.
"I'm really proud to have restored this site, a former cinema and community hall to its former glory as the hub of the town. Donaghadee – its history and connection to our brand – will be a very important part of our visitor experience. Our personal and immersive tours will share our passion for Northern Ireland with visitors and offer them the opportunity to understand more about our portfolio and our distillation process, with some tasting along the way.
"The distillery is now a permanent home for our brand and will allow us to move into new categories such as whiskey and more imminently our newest gin, our first clear, classic expression which is already in distribution locally and will soon join our other products throughout Europe and in Australia.
"Moving into our new home will also allow us to start our journey in whiskey production later this year. As an industry that is targeting global sales of 12 million cases by 2020 and with growing interest from new markets for us including Russia.
"With so much local history and heritage driving our journey, it's very exciting to know that our new home, right on the harbour over-looking the Copeland Islands and surrounding waters, will be the starting point for every bottle of Copeland, be it whiskey or gin, as it sails its way across the world."