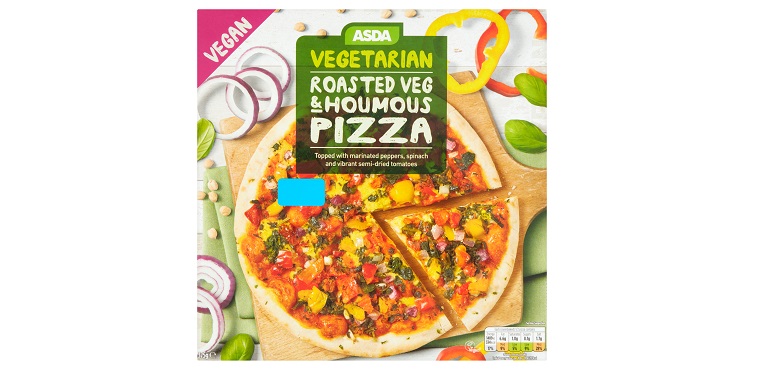 Vegans get a Pizza the action this Summer at Asda!
Over the past ten years, the number of people choosing to follow a vegan lifestyle has risen to approximately 3.5 million [1] * in the UK.
With an increasing number of people in the UK adopting a vegan lifestyle, and in response to the growing demand for vegan products, Asda has announced the launch of its Vegan Society-accredited Roasted Veg & Houmous Pizza, suitable for both vegetarians and vegans.
The new pizza has a stone-baked base and is topped with a rich tomato sauce and finished with generous helpings of marinated red and yellow peppers, spinach, red onions, semi-dried tomatoes and drizzled with houmous.
Perfectly cooked from frozen, or delicious when defrosted and warmed through, the pizza is convenient and great value – at only £1.50.
An Asda spokesperson said, "We're always looking for exciting ways to expand our range of vegan products in-store and online, especially during summer months when convenience is a top priority for our customers who are keen to enjoy the sun and spend time with their families.
We're pleased Asda customers can now enjoy pizza, a staple lunch or dinner treat, as a part of a vegan or vegetarian lifestyle with this delicious and affordable alternative."
Asda's Vegetarian Roasted Veg & Houmous Pizza is available online and in-stores now for just £1.50.
[1] * Research according to Compare The Market, cited from: https://www.independent.co.uk/life-style/food-and-drink/vegans-uk-rise-popularity-plant-based-diets-veganism-figures-survey-compare-the-market-a8286471.html