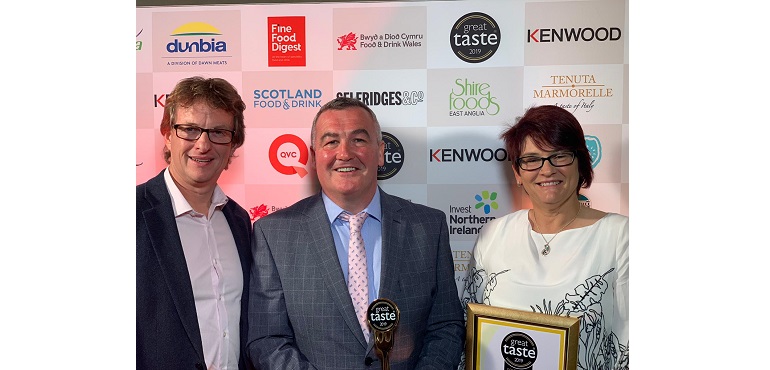 Whitewater Brewery in Castlewellan Northern Ireland's Great Taste winner
Castlewellan's Whitewater Brewery has been named Northern Ireland's tastiest product in this year's Great Taste Awards.
Whitewater Brewery, a family-owned craft brewery founded and run by engineer Bernard Sloan, won the prestigious Regional Fork for Northern Ireland at the finals of the 2019 Great Taste Awards held in London.  
The Regional Fork for Northern Ireland is sponsored by business development body Invest NI.
The Co Down brewery won the top award for its unique and strong (ABV10.5%) Kreme de la Kremlin Imperial Russian Stout in the annual awards. The stout is produced in 330ml cans at the brewery in Whitewater's recently opened brewery, located in the foothills of the Mournes.
Whitewater Brewery founder and managing director, Bernard Sloan said: "We are thrilled to have won the Regional Fork for Northern Ireland, the first craft brewery, I believe, to achieve this immensely important recognition. It's a great endorsement of the craft brewing sector in Northern Ireland. The award has been 22 years in the making.
"The award will be extremely important to us as we seek to grow our existing business particularly in Great Britain, a key market for us especially with a scary no-deal Brexit scenario looming. In addition, we see significant opportunities for all our beers in global markets and will benefit substantially from the recognition in such an internationally recognised competition."
Mr Sloan founded Whitewater Brewery at Attical, near Kilkeel in 1996 and subsequently decided to invest in a new brewery at Castlewellan because of the rapid growth in demand for his range of original beers, ales and stouts in bottles, cans and kegs.
He describes the winning Imperial Russian Stout as "a strong and richly flavoured dark stout that's been carefully brewed and then aged for 12 weeks in whiskey casks in the brewery. It packs quite a punch". 
"While we now operate from a purpose-built brewery, among the most modern in Ireland, we remain faithful to craft brewing techniques that ensure premium quality and consistently outstanding taste," adds Mr Sloan.
John Hood, Invest NI Food and Drink Division Director, congratulating Whitewater Brewery, said; "This is a marvellous boost for an ambitious company which was among the first craft breweries in Northern Ireland. While the brewery has been assisted by Invest NI to expand capacity for international markets and grow sales abroad, Bernard Sloan and his team remain faithful to traditional and time honoured craft brewing techniques.
"This successful marriage of traditional brewing techniques and the latest volume production processes has enabled the company to secure export business in Europe, Singapore and Japan. The winning Imperial Russian Stout, furthermore, recently secured significant first time business in Sweden.
"I had an opportunity to meet Bernard and his team during a recent visit to the state-of-the-art brewery and was impressed by their commitment to international sales and the type of innovation which led to the company being recognised by the expert panel of Great Taste judges for the quality and outstanding taste of the beer.
"We look forward to continuing to work with the Whitewater Brewery team as the build of the outstanding award to grow sales abroad," added Mr Hood.
Pic L - R: Geoff Spence, Invest NI's Food and Drink Division along with Bernard and Kerry Sloan from Whitewater Brewery.