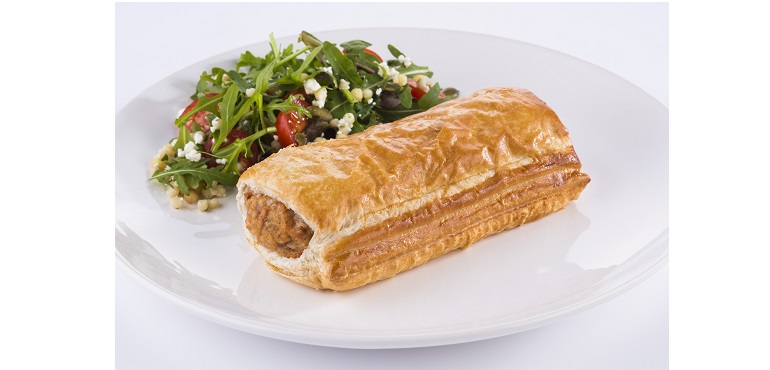 Northern Ireland food-on-the-move specialist in vegan launch
McColgan's Quality Foods, Northern Ireland's leading manufacturer and supplier of pies, sausage rolls, pasties and slices to foodservice and retail customers in the United Kingdom and Republic of Ireland, has recently launched its first chilled savoury vegan product.
Based at Strabane in county Tyrone, McColgan's has developed a soya-based 6" 'food-to-go sausage roll to build on the success of their recently launched retail chilled 130g vegan sausage roll as the first in a range of vegan products.
The company, which has BRC AA accreditation, has been producing sausage rolls and other premium pastry-based meat products for over 50 years and currently employs 290 people at its purpose-built manufacturing plant. It originally started as a bakery and remains a family-owned and managed business.
Innovative and delicious single-serve offerings, namely a caramelised red onion and goat's cheese quiche along with a feta, tomato and spinach quiche, have also recently been launched by the enterprising business.
McColgan's sales manager Gary Hopkins describes the new vegan sausage rolls as "a response to the growing market demand for vegan snacks from coffee shops, cafes, delis and especially petrol forecourt food outlets".  "Our market research also indicates that more customers are seeking snacks that are convenient and being increasingly seen as healthier.
"While our business within this sector in Britain and Ireland is strong and growing, we saw an opportunity to widen our portfolio with a vegan option that looks like and tastes as good as a traditional sausage roll," he adds.
The company introduced the new vegan sausage roll, the unique recipe for which has been created by its NPD team in Strabane, as part of its portfolio on display for trade visitors to view at the recent Lunch! food-on-the-move trade show in London.
McColgan's was part of a 'Taste the Greatness' presentation organised by food and drink promotion body Food NI with Invest NI, the region's business development agency.
"We've used our vast experience in the development of sausage rolls and bakery expertise, over the past 50 years, to create a product which we are confident vegan consumers and flexitarians will enjoy," he adds.
The company, which has been assisted by Invest NI towards the development of the new 112,000 sq ft factory from where it delivers its broad portfolio of convenience snacks and meals seven days a week to retailers and wholesalers across the UK and Republic of Ireland and for the marketing of the products abroad.
In addition to its branded range of convenience meals and snacks, McColgan's has long provided own label products to leading wholesalers in Britain and Ireland.