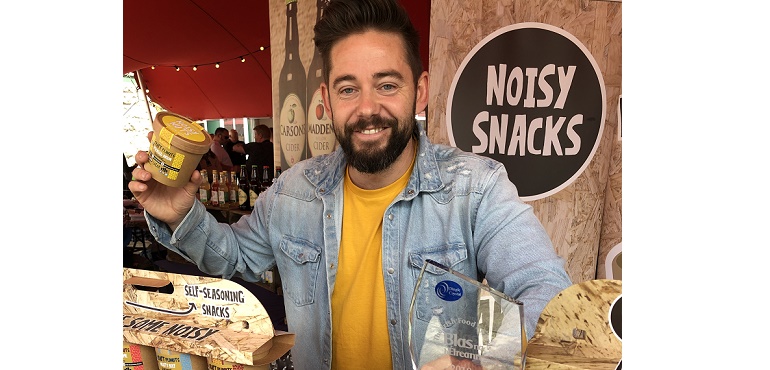 Northern Ireland snack entrepreneur set for UK awards
Noisy Nuts, an innovator in peanut snacks, has won the Belfast final of the Great Britain and Northern Irish Entrepreneur Awards (GBNIEA) in the food and drink category..
Food Stories, a manufacturer of popcorn and fruit crisps, from Belfast was runner-up in the Belfast final hosted by Ulster Bank.
Noisy Nuts, from Ballygowan in Co Down, was founded by food marketing professional Noel Allen to produce peanut snacks in original flavours to accompany craft beers. Mr Allen now goes through to the UK final of the awards.
Mr Allen, commenting on the company's success, says: "I was thrilled to win in Belfast. It's a superb boost for my small business and will help to raise our profile further in Britain, our most important target market and one in which we've been investing significant time and funds to grow the business."
He has created a range of self-seasoning peanut snacks and backed this up with an energetic and increasingly successful marketing campaign.
Mr Allen developed a six-strong range of 85g snack pots of peanuts which are available with different seasoning sachets.
Consumers can pour the whole seasoning sachet in and shake the pot giving a strong flavour or season as they wish to fit with their beer drinking taste.
His decision to set up Noisy Nuts, in 2017, was influenced by his love of craft beers, now a thriving category in Northern Ireland. "I enjoy peanuts with my beer and had noticed that the they often impacted the flavour. This led me to see if I could come up with a way to flavour the nuts to compliment the beers.
"With hundreds of different craft beer breweries in the UK, including upwards of 40 in Northern Ireland and more than 3,500 different craft beers on sale I reckoned there was an opportunity to produce a complimentary and interesting snack for this buoyant and growing market.
"Craft beer drinkers are all about taste and we're giving them an original snack that will enhance their drinking experience," Mr Allen adds.
The Great British & Northern Irish Entrepreneur Awards, held for the first time in Belfast, showcase and celebrate "the incredible stories that have taken entrepreneurs to where they are today, regardless of size or turnover".
There were 47 finalists in Northern Ireland across 10 categories, including Creatives Industries, Food and Drink, Disruptor, Start-Up and Young Entrepreneur.