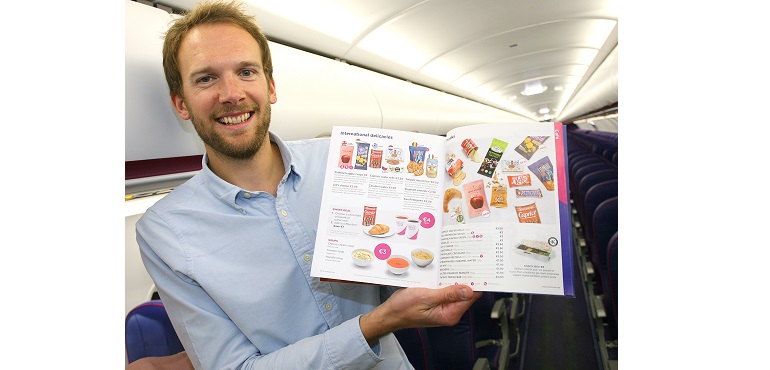 Hungary's Wizz Air lists healthy crisps from Food Stories in Belfast
Millions of passengers on flights by Hungary's low-cost Wizz Air are now able to enjoy healthy snacks from Food Stories in Northern Ireland.
The Budapest-based airline, which carried over 33 million passengers last year to destinations throughout Europe, North Africa and the Middle East, has added the Belfast food company's award-winning Pinkfinch fruit and vegetable crisps to its in-flight menus.
The Wizz Air deal, the latest export success for Food Stories, which also produces a range of increasingly popular Cloud Corn popcorn flavours, follows a social media exchange between the airline and Michael Heaslip, the founder of the Northern Ireland food business.
The airline has recently listed the popular Pinkfinch Apple Crisps crisp flavour – in 35g packs. The product is made from real fruit but has the same texture as a potato crisp.
The company, founded and managed by Mr Heaslip in 2014, employs a unique vacuum crisping process which locks in the healthy flavours which can be accounted among the five-day healthy eating recommendation.
Mr Heaslip, commenting on the Wizz Air deal, says: "The airline's food buyers loved the natural flavours of the crisps as well as the vegan, gluten free and high fibre features"
"I originally approached the buying team on social media to introduce the company and the crisps. They responded very positively, I then sent samples for taste tests. The crisps were extremely well received and the listing for in-flight menus followed.
"I was thrilled by their interest and decision to list the crisps on the airline's extensive network in Europe and into North Africa and the Middle East. It's a superb opportunity to put the crisps before millions of passengers from Budapest and other flight hubs.
"It's hugely exciting new business for us in Europe with an important and ambitious airline. It's a further indication of the accelerating market trend towards healthier snacks such as our unique fruit and veggie crisps," he adds.
Food Stories also supplies its range of products, especially Pinkfinch to leading retailers in the UK, including Sainsbury's, and Tesco Ireland as well as in Germany, France, the Netherlands, Spain, Belgium and Scandinavia.
The snacks, in addition, are being exported to Hong Kong, Canada, and French Polynesia.
Wizz Air currently serves almost 150 destinations in 44 countries from its main hub in Budapest. It carried almost 34 million passengers last year and has a modern fleet of around 130 planes.
The low-cost airline has its UK hub at Luton Airport which serves Belfast with direct flights to Katowice in Poland and Lithuania's Vilnius.
Michael Heaslip, managing director of Food Stories in Northern Ireland shows the company's Pinkfinch fruit crisps on the Wizz Air in-flight menu card