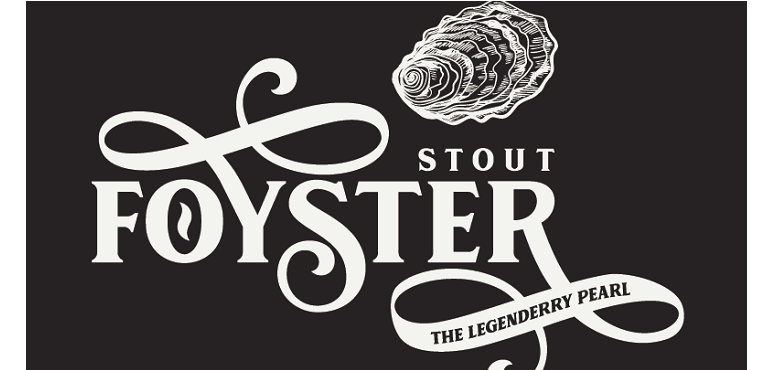 New oyster stout will be the 'LegenDerry pearl' of Derry Slow Food Festival
OYSTER stout has long been popular in the United States but it could be about to make a breakthrough in the Irish market with the launch of a unique new beer made with a native oyster.
Foyster will be unveiled at Derry's award-winning Slow Food Festival which takes place this week from October 9 – 13, 2019 with an official launch at Atelier Hair, Great James' Street on October 12.
A rare native, the Lough Foyle oyster has long been exported to exclusive eating establishments, but has been less exposed to local palates. Its exclusivity is exacerbated by the fact that it is only available for a few short weeks a year.
This means anyone wanting to sample it must make a visit to the city from October to December.
Foyster, or the 'LegenDerry Pearl' as it's being referred to, embodies all that is best about food and drink in the Derry area and came about through the enthusiasm and endeavour of members of the LegenDerry Food Network, Connor Doherty of Sippy Fest and James Huey of Walled City Brewery.
Connor, who founded Sippy Fest during the Derry's year as City of Culture in 2013 to champion local food and drink businesses, said: "Traditionally we are consumers and not producers but when we were in Galway earlier in the year with the Food Network, we got talking about oyster stout and we realised we had this phenomenal product in the Foyle which we needed to harness and turn it into a traditional old style beer which we think will go down well with punters.
 "It's a really fun project. We have a phenomenal range of local beers but Foyster is something that can really put us on the map for its provenance, the fact that we are using such a unique, local product. This is a wild oyster that grows in Lough Foyle and can be fished only over a short period of time, it's beholden to nature, there are good years and bad. The Lough Foyle Irish Flat Oyster is a little more delicate so we're keen to work to promote the sustainability and celebrate its provenance.
"Sippy Fest has previously given a platform to others to sell beer – we stay firmly on the bar stool side of the bar since we started during the city or 'sippy' of culture year in 2013 around a kitchen table.  We quickly outgrew the kitchen and have since been holding a festival in the Guildhall in the mouth of Christmas each year. This is the first time we've ventured into production but it was too good an opportunity to let it pass us by.
"The stout will only be available for three months so we have to capitalise on the oyster season."
"The launch will take place during the Slow Food Festival at Atelier Hair on Great James Street. They are big supporters of local business and new ideas and the ethos of slow food and craft beers also ties in very well with their commitment to sustainability and the environment.
"People can come along and hear the story about the beer before sampling it. It will then be available to buy in quality local restaurants and outlets.
"Oysters with stout has always been a staple of sailors' diets, it was cheap protein not a luxury, so it's a great combination."
"The Loughs Agency has been very supportive, helping us source suppliers. It fits perfectly with the Slow Food movement because it's traditional local produce being used in an innovative, fun way."
James Huey has a wealth of experience of brewing beers through his Walled City Brewery and is passionate about promoting the region through his role as Chair of the LegenDerry Food Network so Connor's suggestion to create a local oyster stout was a challenge he couldn't turn down.
James said: "We did a lot of research and oyster stout goes back several hundred years. The people who first made it wouldn't have realised at the time but oysters are a natural source of protein and they also help clarify the beer.
"We also did a lot of tasting. I think most people would expect it to taste of oysters but it doesn't, and there isn't any aroma. It's a really creamy, decadent stout. It won't taste of oysters, it's very subtle.
"Although you often find them together, we are the first to create a stout from a native oyster.
"We're going to roll this across the city but it will have limited availability during the oyster season from October to December.
"We had been looking around for a real signature dish or drink you can only get in Derry –Foyster oyster stout is perfect and will hopefully draw in the tourists to our city.
"It's been a great collaboration with Sippy Fest."
The Slow Food Festival will help cement Derry's growing reputation as a serious foodie destination. Now in its fourth year, it's been extended from two days to five to offer visitors a host of food and drink experiences including the Taste of LegenDerry Slow Food Dining Experience, Nonna's Wood Fired Pizza's "Cena di Venti Miglia" dinner and various food and drink tours as well as live cookery demonstrations from local and visiting celebrity chefs, the Harvest Market slow food marquee, street food and family fun.
For more information, visit: www.derrystrabane.com/food and to book free tickets for the Foyster launch night, visit: getinvited.to/sippyfest/foyster-launch-night