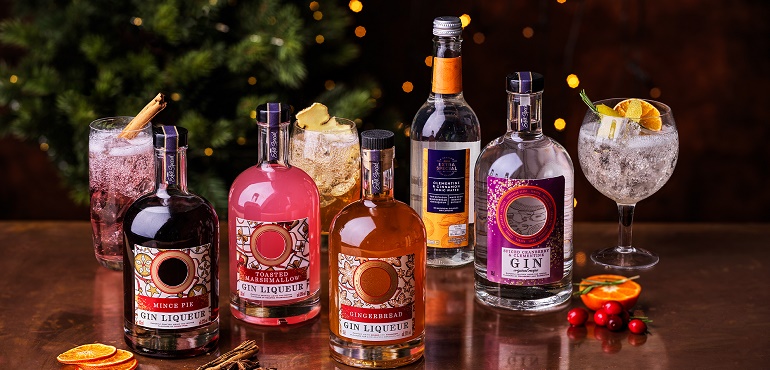 GIN-GLE BELLS, GIN-GLE BELLS - ASDA LAUNCHES NEW FESTIVE GIN RANGE
Following the sell-out success of its Gingerbread Gin last year, Asda is introducing a new range of Extra Special festive gins for the Christmas season, gin-spiring the UK with three new flavours perfect for festive cocktails – Winter Spiced, Mince Pie and Toasted Marshmallow.
From October 12, the UK can sip into the Christmas spirit with Asda's new Extra Special Winter Spiced Gin with Cranberry and Clementine for only £18. Triple distilled with added festive spices, this full-strength gin is perfect as a winter warmer when paired with a delicious tonic or lemonade.
Lightly spiced with cinnamon, nutmeg, cloves and finishing notes of cranberry and clementine, this gin will get taste buds tingling at any festive gathering.
With the UK eating over 220 million mince pies a year[1] we are clearly a nation fuelled by the festive treats. To cater to the UK's love of the after-dinner treats, Asda is launching a Mince Pie Gin Liqueur, ensuring people can enjoy their favourite festive flavour as part of a delicious drink.
 Launching at £10, the gin liqueur is perfectly paired with a bottle of Extra Special Clementine and Cinnamon Tonic, adding a touch of Christmas spirit to any gathering or party.
For those with a fondness for something that little bit sweeter, Asda is also introducing a new Toasted Marshmallow Gin Liqueur, providing a taste of freshly toasted marshmallows in every sip. Available for £10, the gin liqueur is paired with Prosecco for a light pink drink perfect for any festive party.
Ed Sowerby, Asda gin product developer, comments: "Gin continues to be a favourite with our customers, especially around the festive season where gifts and something to impress guests with is top of customers' agendas, so we're proud of the innovation which has gone into creating our latest festive spirits.
"We wanted to make sure that there was a seasonal sip for every palate, and we're sure that our customers will love our latest additions to the Extra Special gin collection."
Due to the roaring success of the Extra Special Gingerbread Gin liqueur in 2018, the product will return to shelves this Christmas at £10, providing customers with a glittery gin that adds a little sparkle to any evening.
The entire range of Asda's NEW festive gin will be available in stores and online from 12th October 2019.