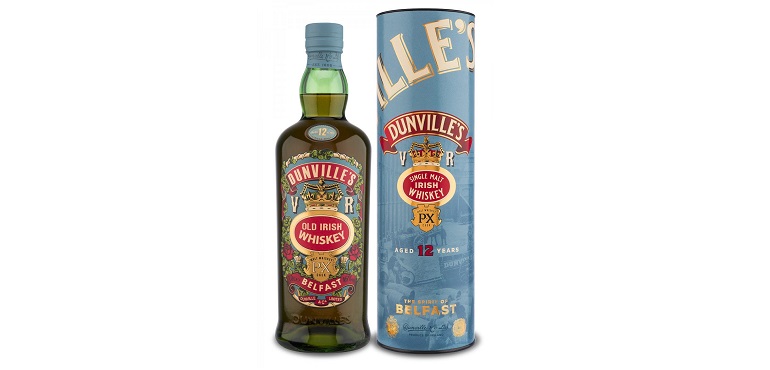 Echlinville's Dunville Single Malt wins at Irish Whiskey Awards
Single Malt Dunville PX, produced by Echlinville Distillery in Northern Ireland, was a major success in the recent Irish Whiskey Awards. In addition, the distillery gained awards for gin and Irish poitin.
Based at Kircubbin in Co Down, Echlinville gained the 'Best Irish Single Malt (12 years and younger) category for its Dunville PX Cask 12 Year Old and under as well as golds for Echlinville Single Estate Irish Pot Still Gin and for Ban Poitin, the latter being distilled in Kircubbin.
"Always super proud of this whiskey, never more so now," said Echlinville Distillery director Jarlath Watson.
Echlinville Distillery was formed in 2012 by businessmen Shane Braniff and Mr Watson to develop a range of premium spirits, especially whiskey. It was the first distillery to be granted a license to distill Irish whiskey in the North of Ireland in over 130 years. The distillery also produced the hugely successful Jawbox Gin.
The whiskey awards were announced at a gala event held in Dingle Distillery, Co Kerry in celebration of the growth and success, especially in global markets, of Irish whiskey and other spirits.
The industry is seeing record output from a growing number of distilleries. At last count, the number of whiskey distillers either operating, being built or announced and in the process of being permitted, exceeded 35 - the largest number of Irish whiskey distilleries since the late 19th century. There are now eight distilleries either operating or planned in Northern Ireland including, of course, Bushmills, the world's oldest licensed distillery and among the most successful. Bushmills is another Food NI member.
Yearly shipments from Ireland's distilleries are now over 20 million cases and US sales at wholesale, for the first time in the industry's history, now exceed one billion dollars.
The keynote speaker for the evening was Colum Egan, Master Distiller for Bushmills Distillery in Co Antrim. Long considered a pillar of the Irish whiskey community, not to mention an iconic character in the Irish whiskey industry, Egan has worked with Bushmills Distillery since 2002.
He is a previous chairman of the Irish Whiskey Association. He has extensive experience within the industry and has created award winning whiskeys for one of the world's best-known distilleries.
Mr Egan presented the awards, which are now in their seventh year and span over 20 categories.
Judging of the awards took place in July and August with members of the Celtic Whiskey Club, Irish Whiskey Society, Irish Whiskey Society Dingle Chapter, Kilkenny Whiskey Guild & Cork Whiskey Society, as well as two new participating societies: Waterford Whiskey Society and Belfast Whiskey Club.
Overseas members of the Celtic Whiskey Club also had the opportunity to purchase sample packs without having to travel to Ireland. Members of the trade and whisky media also judged the approximately 130 entrants. Members of the trade were also responsible for judging the white spirits, liqueurs and barrel-aged beer categories. All judging was blind.
Commenting on the awards, organiser Ally Alpine, managing director of Celtic Whiskey Shop and organiser of Whiskey Live Dublin, said: "The Irish Whiskey Awards celebrates the excellence and innovation in the Irish whiskey industry whilst raising funds for our incredible charity partner Mary's Meals.