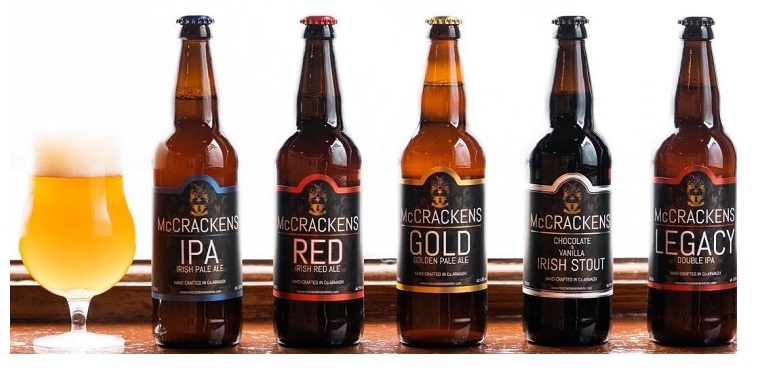 First sales in Britain for Northern Ireland's McCrackens Real Ales
McCrackens Real Ale, a craft brewery in Northern Ireland, has won its first business in Great Britain from an e-commerce initiative.
The family-owned brewery, which is based in Portadown, county Armagh, is now supplying customers in Glasgow and is also following up approaches for its beers from other parts of Britain and the Republic of Ireland.
The first business outside Northern Ireland for the craft brewery, which was founded by Ryan McCracken in September 2018, follows a listing of the small company's products on the e-commerce shop of Rademon Estate Craft Distillery, known internationally for its multi-award-winning Shortcross Gin. Shortcross was the first gin distilled in Northern Ireland for more than a century and is now exported worldwide.
Mr McCracken explains: "I contacted Shortcross in response to an offer from the distillery to include smaller drink producers here on their e-commerce shop during this very challenging time for us all. It was a very generous gesture and I was delighted when they subsequently put my five-strong range of beers online. This was a tremendous boost at a time when my sales to local hotels, restaurants and bars stopped because of the lockdown.
"I've since received firm orders from beer lovers in Glasgow and a number of other approaches from potential customers in Britain and the Republic of Ireland. This is very encouraging because I had been planning a trip to Britain to help me to pinpoint potential distributors.
"The Shortcross shop links to my website which provides more detailed information about my business and the beers. It's great to see cash starting to flow again," adds Ryan.
Mr McCracken, an IT manager, set up the brewery in a specially converted building at the home he shares with wife Nicola, son Evan and another baby on the way. He began brewing as a hobby in 2014 when Nicola gave him a home brew kit as a Christmas present.
"I enjoyed beer and caught the home brewing bug," he remembers. "I kept adding equipment and experimenting with different beers which family and friends enjoyed. In September 2018, I launched the McCrackens brand and began marketing the beers in Portadown and then in other parts of Northern Ireland. I had built up a network of 60 outlets here in hotels, bars, restaurants and off licences.
"Unfortunately, licensing laws in Northern Ireland don't allow craft brewers to sell online or to callers at the breweries. The listing on the Shortcross e-commerce shop was a real breakthrough for me," he adds.
Fiona Boyd Armstrong, managing director of Rademon Estate Craft Distillery, says: "It's immensely encouraging to see McCrackens winning customers in Britain. We were aware of the cash flow problems facing smaller drink companies here from the lockdown and the licensing laws and wanted to do something to help them to survive. So, we offered to include interested drink producers in our successful e-commerce shop. McCrackens, Long Meadow Cider and Armagh Cider, all based in Portadown, responded and their products are showcased in the shop."
McCrackens Real Ale has created a broad range of bottled-conditioned ales and had begun supplying ale in cask and keg form. The pale ales, Irish pale ale and chocolate and vanilla Irish stout are all hand crafted in the brewery in Portadown by Mr McCracken and his four-strong team.