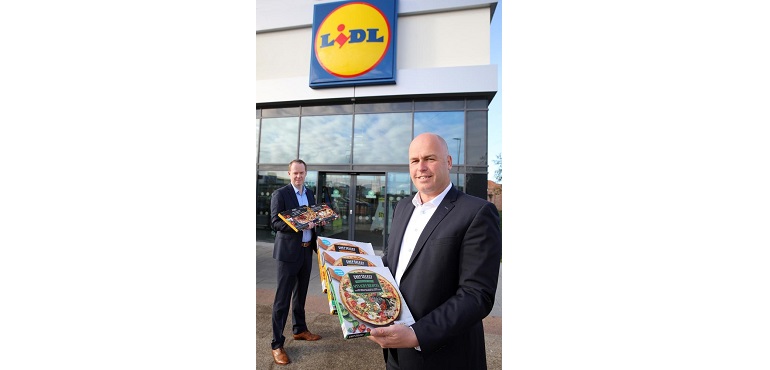 Northern Ireland's Crust and Crumb in £24m deal with Lidl
Crust and Crumb Bakery in county Fermanagh has won a contract worth £24 million a year to supply pizzas to discount retailer Lidl.
Based in Derrylin, Crust and Crumb is supplying pizzas to around 1,000 Lidl stores in Ireland and Britain.
The company employs around 300 people and has supplied Lidl since 2013. It is Ireland's biggest supplier of dough-based products.
The deal will involve supplying 20 varieties of Lidl's Deluxe range sourdough pizza, six Chef Select pizza lines and two flavours of its Simply pizza value range.
Conor Boyle, regional director of Lidl Northern Ireland, which has around 39 stores, said: "From small beginnings in 2013 we've built an outstanding relationship with Crust & Crumb and we are thrilled that this new contractual arrangement will bring its great-tasting, quality, locally-made products to thousands of new consumers in stores across the UK and Ireland.
 "An innovative company with renewed capacity for growth, Lidl Northern Ireland acknowledges this company's hard work and commitment afforded by its team of staff and we're proud to support its expansion."
Crust & Crumb has two production facilities in Derrylin, one of which is for gluten-free products. It has a second site in Ballyconnell, Co Cavan, which opened last year.
Mark McCaffrey, Crust & Crumb Bakery director, said: "Supported by a dedicated team of craft bakers, we take great pride in producing a range of world-class products which pack real punch in quality, taste and value.
"We're delighted to expand our partnership with Lidl Northern Ireland as part of a significant investment which supports our plans for continued growth.
"This partnership has enabled us to access new markets and expand our customer base across the UK and Ireland and it supports our ambitions for export sales to additional EU markets later this year."
The longstanding business with Lidl has enabled the company to create 160 full-time jobs.
Last year Lidl commissioned a report on its local economic contribution since it was set up 20 years earlier. The report said the retailer spends at least £290 million a year on suppliers, while supporting 3,500 jobs.
John Hood, director of Invest NI's Food and Drink Division, added, it had supported Crust & Crumb since it was set up around a decade ago.
He added: "In what is an immensely challenging time for companies across Northern Ireland, we welcome Crust & Crumb's longstanding partnership with Lidl Northern Ireland.
"This announcement is testament to the company's sharp focus on innovation, which has been the driver in helping it to increase its product range and further its relationship with Lidl."
Two years ago Lidl announced a deal with dairy co-op Dale Farm involving the supply of cheddar cheese to 8,000 Lidl stores in 22 countries.
According to the latest industry data from information company Kantar, Lidl is Northern Ireland's fastest-growing grocer.
The company experienced 8.3 percent sales growth in the year to April 19, giving it a market share of 6.2 percent.
Conor Boyle of Lidl Ireland with Mark McCaffrey of Crust and Crumb