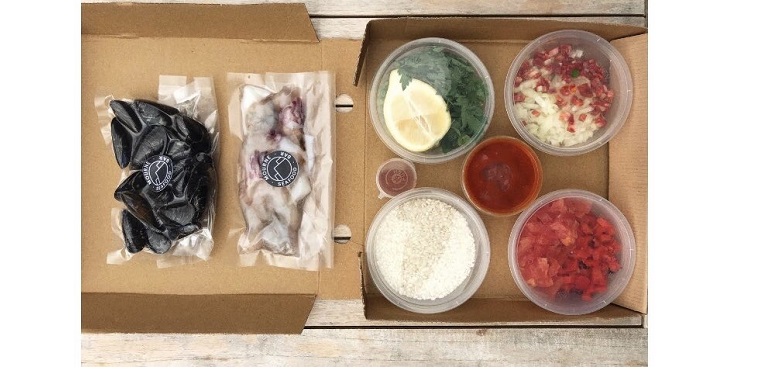 Novel 'Belfast Paella Kit' launched by top restaurant
An innovative 'Belfast Paella Kit' has been developed for locked down home cooks by one of the city's top restaurants.
Mourne Seafood Restaurant and Bar, a specialist in fresh fish and seafood from Northern Ireland trawlers, created the novel DIY paella to enable families to make and enjoy the traditional Spanish dish at home and also to help the popular restaurant survive during the current Covid-19 lockdown.
The kit provides a tasty meal for two and includes fresh squid, mussels and rice along with sauce and seasonings. It sells for £10 and is available for home delivery or on a call and collect basis.
The paella kit is the latest initiative by Mourne Seafood owners Bob McCoubrey and experienced chef Andy Rea, a seafood specialist. They have recently launched Belfast's only drive-thru fishmongers for fish and seafood lovers in the city and gourmet restaurant meals for delivery or collect.
"We've had to adapt quickly to the lockdown by doing different things to generate cash that will help us to pay the bills and to ensure the business is in reasonable shape for when the Covid-19 crisis eventually ends and we are then able to welcome diners again," explains Mr McCoubrey.
"The recent funding support from the Northern Ireland Executive, of course, is very welcome and will help the business."
"We decided to launch the paella seafood dish because it's relatively easy to make at home. It's also a really tasty dish. The kit includes full instructions and also links to video showing how best to make and enjoy the dish," he adds. "Furthermore, it's more support for our local fishing families at a very challenging time for us all. It will also remind people for holidays in Spain.
"We've been immensely encouraged by the response from local people to the unique drive-thru fishmongers in the square behind the restaurant. People can check what's available, order, arrange a time for collection and then simply drive in to pick up the order – all within social distancing rules," he adds,
The business partners opened the Belfast fish restaurant in 2007 and followed this with Belfast Cookery School, in 2011, the city's first commercial cookery school.
The progressive company sources a full range of fresh fish and seafood including oysters, mussels, lobster, crab, langoustines and scallops from Northern Ireland's ports for its menus, fishmongers and the cookery school.
Mr McCoubrey also runs the Mourne Seafood restaurant in Dundrum, county Down which operates a delivery service. Mr Rea also owns Home and La Taqueria restaurants in Belfast. All three are also offering meals to be enjoyed at home in areas neighbouring the restaurants.