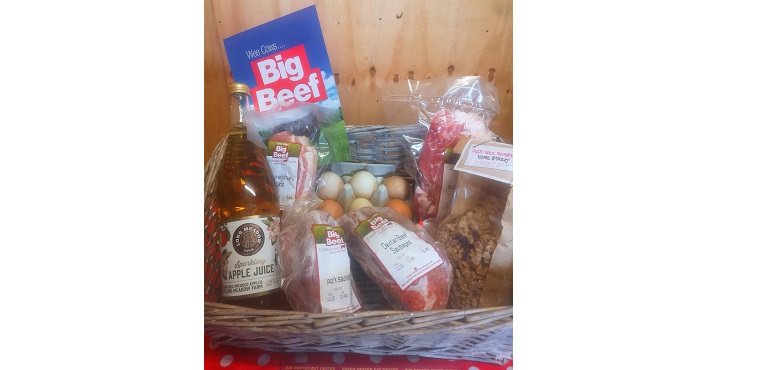 Unique Breakfast in Box from Northern Ireland farm business
A traditional Ulster Fry 'Breakfast in a Box' has been created by an enterprising family farm in Northern Ireland as it tackles the cashflow challenges from the current Covid-19 lockdown.
Castlescreen farm, owned and run by Damian Tumelty and his partner Jackie Gibson, has developed the 'Breakfast in Box' for home delivery to or for collection by customers around parts of county Down. It's the latest in a series of food boxes from the farm, which is based near Downpatrick, and is best known for its prized grass-fed Dexter beef as well as lamb, pork and poultry. The farm is known throughout Northern Ireland for its Wee Cows Big Beef branding.
The new breakfast box features products from the farm which has its own butchery and shop that also sells other artisan foods from Northern Ireland. The box includes the popular ingredients for the much loved Ulster Fry such as bacon, Dexter beef and pork sausages, vegetable roll and free range eggs.
The unique box also includes breakfast products from other local producers including apple juice from Long Meadow Cider in Portadown, county Armagh and tropical granola from Tasty Wee Numbers in Ballynahinch, county Down.
Explaining the thinking behind the launch of the breakfast box, Mr Tumelty says: "The box is aimed at people here who have had to self-isolate because of the virus and subsequent lockdown and have been unable to shop for themselves.
"Most people here love a traditional cooked breakfast. And so we've put together this box with all the essential ingredients required for a tasty breakfast they can cook easily at home. We have total control over all the contents and this means that customers can count on these for quality, provenance and traceability," he adds.
The farm, he explains, had to develop the boxes for home delivery or collection at the Farm Shop because of the lockdown closure of the farmers' and food markets which provided much of the farm's cashflow.
"We had also been developing good business with hotels and high-end restaurants here for our grass-fed Dexter steak and, of course, this disappeared with the lockdown," Damian continues.
"Some of that business is beginning to come back as restaurants are now offering home delivery and call and collect services.
"We decided to start the special boxes for breakfasts and main meals to provide some income to help us with the bills we still have to pay. Farm prices are also under pressure at the moment and this doesn't help," he adds.
As well as a range of premium quality Dexter beef products, Castlescreen has expanded to include other meats including pork, lamb and chicken, all readily available in the butchery now a central part of the recently opened farm shop. There's also honey from hives on the farm. It has also developed specialist products including salami from its own meat.
Mr Tumelty is among a small group of Dexter breeders in Northern Ireland and has won a cluster of prestigious awards for the cattle and meats especially steak.
He currently rears a herd of around 100 Dexter beef and breeding cattle on the sprawling farm which has been in the Tumelty family for over 40 years.