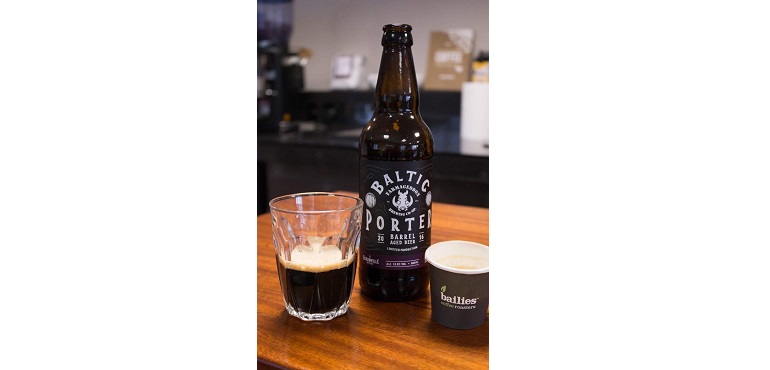 Unique Northern Irish cask ale with coffee flavours
Farmageddon, the Northern Irish craft brewing co-operative, has linked up with two other local businesses to create a highly innovative brew.
Baltic Porter has been brewed by Farmageddon, which is based on a small farm near Comber in county Down, in association with Echlinville Distillery at Kircubbin, also based in county Down, Northern Ireland's second largest licensed Irish whiskey producer, and Bailies Coffee, a Belfast coffee roaster for foodservice clients.

Baltic Porter (ABV 10.8%) was created by the artisan brewery to mark the third anniversary of its foundation in November 2013 by Eoin Wilson and a group of six friends on his small farm. The porter is produced in 500ml bottles.

He says: "We brewed a beefed up version of our porter and 'dry hopped' it on Sumatran coffee beans, sourced and roasted by Bailies. After lagering the beer, we transported it to Echlinville in Kircubbin, emptied seven single malt barrels and immediately refilled them with our Baltic Porter.

"The beer was left to age and infuse for four months. What we have produced has flavours of chocolate, espresso, vanilla, oak and a gentle warmth," he adds.

Farmageddon has an existing portfolio of four unpasteurised and bottle-conditioned beers - IPA and porter - and recently invested £100,000 as part of a two-year expansion plan. The expansion enabled the business to purchase new brewing equipment.

Wilson adds: "We aim to capitalise on the growing interest in craft beer and leverage our enhanced capabilities and resources to secure new sales outside Northern Ireland," he adds.

Farmageddon features a commitment to sustainability and recycles all its water from the brewing process. Spent grain is also used to feed a herd of free-range pigs for beer flavoured ham and bacon.

Echlinville Distillery produces a range of spirits including Irish whiskies such as Dunville Single Malt and Dunville Premium Blend at its modern distillery which was opened officially earlier in the year. It also distils two gins - Jawbox Classic Belfast Dry Cut and Echlinville Irish Pot Still - and Ban Poitin clear spirit.