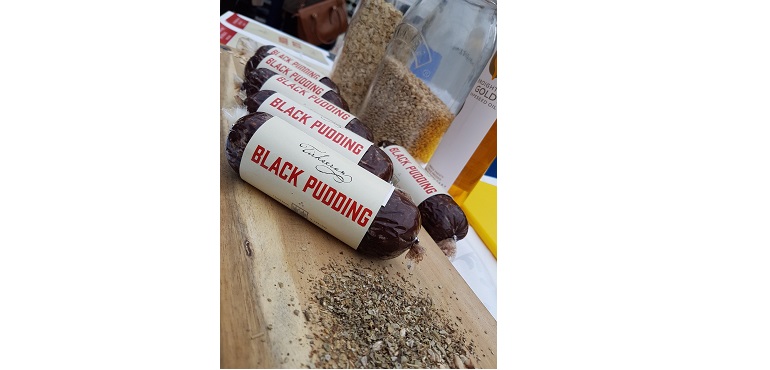 Tirkeeran, a new artisan black pudding from Derry butcher
A new artisan black pudding has been launched in Northern Ireland by one of Derry's most experienced butchers.
Tirkeeran Black Pudding has been developed by butcher Ciaran Breslin using ingredients sourced mostly from local suppliers and with expert assistance from top Irish chef Brian McDermott.

Mr McDermott also runs the Foodovation Centre for food and drink innovation at the North West Regional College of Education in Derry and has been involved in the development of several new food and drink products.

The new black pudding has taken two years to develop and is the first in a series of meat products being planned by Mr Breslin who runs successful butchery and restaurant businesses in Derry.

Mr Breslin, explaining his decision to launch the new black pudding, says: "I had been thinking about developing a black pudding when I attended a culinary demonstration in which Brian McDermott cooked using a pudding.

"While I grew up enjoying black and white puddings, my interest in developing my own distinctive product was also fired by the publicity surrounding the puddings as a superfood. What gives the traditional blend of pork, pig's blood and barley in my black pudding a very distinctive flavour is the unique blend of spices including sage.

"I spoke to the chef afterwards and he encouraged me to start developing my own pudding. He worked with me at the Foodovation Centre on the ingredients and especially the blend of spices.

"We worked together for over a year to create the new recipe pudding that we both enjoyed. The support he provided was invaluable and I learned a great deal working with him and the team at the Foodovation Centre," he adds.

The Tirkeeran pudding is 220g and retails at £2.99. It was launched at the recent two-day Northern Ireland Slow Food Festival in Derry. The black pudding is named after baronial lands around Derry stretching back over 1,000 years.

"I chose the name Tirkeeran to help emphasise that the black pudding is a new artisan product from Derry using locally sourced ingredients," he adds. He's now using the experience gained to create a new white pudding.