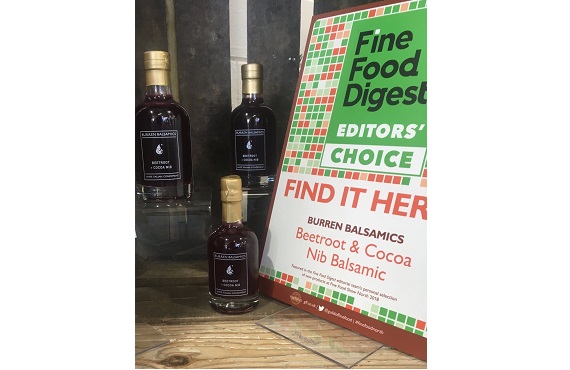 Top award for Burren Balsamics at leading GB food show
Burren Balsamics in Northern Ireland, a leading producer of whole fruit infused balsamic vinegars, has won a top award at the Fine Food Show North in Harrogate.
The artisan business, which is based at Richhill in county Armagh, has gained an Editor's Choice Award at the major food event organised by the UK Guild of Fine Food and publisher of Fine Food Digest.
Burren Balsamics, founded and managed by chef Susie Hamilton Stubber, gained the award for its unique Beetroot and Cocoa Nib vinegar.
Mrs Hamilton Stubber, commenting on the award, says: "I am delighted to have won this important recognition from Fine Food Digest at this major food and drink exhibition. It's a tremendous boost for the business and our substantial investment over the past year to grow sales in Great Britain, the most important market for the company.

"We've been taking part in a number of major food shows in Britain, the most recent being Fine Food Show North in Harrogate, and been encouraged by the interest shown in our balsamics by chefs and the wider public. It has required a substantial investment in time and funds but it's the only way to increase awareness of our products and grow sales," she adds.
The company was the only food business from Northern Ireland taking part in the event in Harrogate.
The company has already taken part in leading food shows in London, Birmingham and Glasgow. Burren Balsamics is keen to expand sales in Britain through delis, independent retailers and farm shops.
Burren Balsamics has a strong position in Northern Ireland and is also developing business in the Republic of Ireland since winning one of the major awards at last year's Blas na hEireann Irish National Food Awards. It has also gained UK Great Taste Awards from the UK Guild of Fine Food.
Established in February 2014 by Mrs Hamilton Stubber, Burren Balsamics has developed an extensive portfolio of natural, handmade fruit infused vinegars using locally sourced fruits, such as bramley apples, strawberries, blackberries blueberries and mint wherever possible.
The company introduced an innovative range of white vinegars last year which has proved a successful initiative.
Fine Food North is among the biggest food shows in Britain and is organised by the Guild of Fine Food. In addition to dozens of trade stands, the show, which is open to the public, features an extensive programme of cookery demonstrations by top chefs, as well as tastings and workshops.