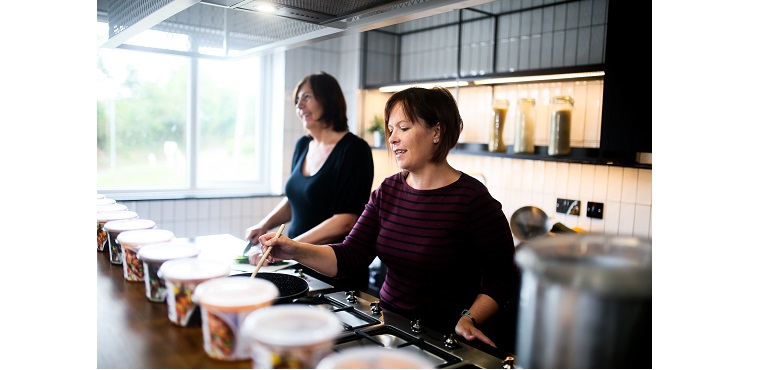 Aldi in Republic lists Crossgar's Prep House Sauces
Prep House Sauces in Crossgar has won its first business with Aldi, the leading discount retailer in the Republic of Ireland.
Prep House, a family business which has won a string of national awards for its original sauces and dressings, is now supplying its pepper sauce to Aldi for its network of 137 stores across the Republic. The company is headed by Paul Bell, the managing director, who took over the management reins in 2015.
Mr Bell, commenting on the company's latest says: "Winning initial business from such a prestigious and quality-conscious retail chain as Aldi, which has such an extensive network of successful stores across the Republic, was a marvellous boost for everyone here.
"This very important business for us resulted when we swiftly followed up a lead from Invest NI's Drew McIvor.

"Our approach was well received by the Aldi buyer who was extremely interested and very supportive. We were subsequently invited to pitch several products including the pepper sauce that is now on Aldi's shelves. Working with Aldi is a tremendous experience.

"As a result of the outstanding taste of the product and the convenient two-serve sachet, we've been invited to create additional sauces for the chain," adds Mr Bell.
The Aldi listing is Prep House's biggest deal to date in the Republic and its most significant retail business. The company has successful business especially with chefs, restaurants and hotels in Northern Ireland.
Prep House has experienced exceptional growth to 23 people, including 18 in the modern factory, from the three employed when the business began.
Sales have more than tripled since then. In addition, the company has invested almost £1 million in creating a state-of-the-art factory and new product kitchen close to the centre of the Co Down village, a predominantly rural community.
Awards for taste and quality have also followed from the UK Quality Food and Drink, Great Taste Awards and the Blas na hEireann Irish National Awards. Judges have acclaimed original sauces and dressings including Irish seaweed and sweet and chilli.
"Our objective is to enable more home cooks here, in the Republic and abroad to recognise that when a Prep House sauce or dressing is added they have a delicious meal," adds Mr Bell.
Prep House is an ambitious business with strong family values from its ownership and the strength of their longstanding reputation in creating original food products and good employment opportunities for local people.
Other smaller food processors in the area, furthermore, benefit from the company's commitment to source ingredients, such as set sour cream and natural yoghurt, from Farm View Dairies in Castlereagh and Bangor's Clandeboye Estate for its sauces.
The business has plenty of new products in the pipeline including many influenced by management and the NPD team keeping in touch with market trends concerning diet such as portion sizes, vegan, gluten-free and low-fat.
Pic: Prep House's new product team Avril Boyd and Lynne Berry in the Crossgar factory.