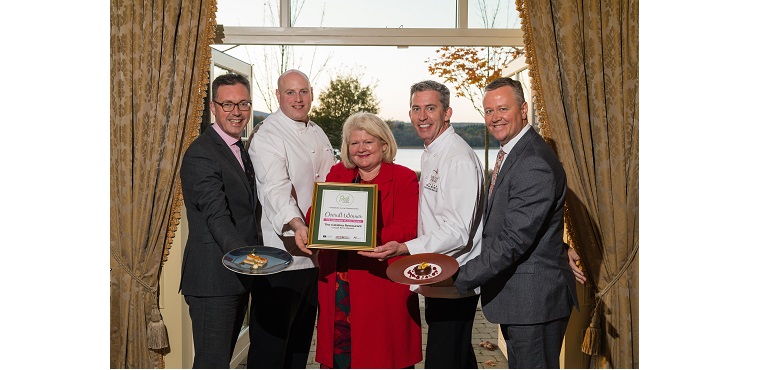 Unveiled: The Greatest of The Great Places to Eat
The results for the overall Greatest of the Great Places to Eat Awards 2019 are in and the winner, as decided by the Public Vote, is the Catalina Restaurant at the Lough Erne Resort in Enniskillen.  
John Brolly, Marketing Manager of the Irish News said: "We are delighted to announce the Catalina as the inaugural winner of our Greatest Place to Eat 2019. There is no doubt that the Catalina has earned this accolade, the food the they conjure from wonderful local produce, with creativity and passion is an incredible experience for diners."
The Catalina Restaurant at the 5 star Lough Erne Resort in Enniskillen, is under the direction of executive head chef Noel McMeel.
Michele Shirlow Food NI CEO said: "Great food starts with great produce and ends in Great Places to Eat. The service and menu provided by Noel McMeel and his team is excellent and they are deserved winners among a host of Great Places to Eat. We congratulate all our winners, for each of them being great is a habit and consistent quality is guaranteed."
John Brolly said: "Nothing great is accomplished without passion, and for all our winners it is clear that they have a real passion and love for producing delightful dishes that patrons enjoy  We would like to thank everyone who took part in The Irish News Great Places to Eat Awards. The inaugural competition has been a great success, and we look forward to our readers sampling the fayre available from all the Great Places to Eat on our winners' list."
Cathal Geoghegan, managing director of Henderson Food services said, "We constantly talk about places that are great to eat and about the quality of our food scene. The response to the Great Places to eat Awards undermines the connection we have with food. Congratulations to the winners who thoroughly deserve their accolade.  
Close to 5,000 individuals cast a separate vote for the winners in a dozen categories - and  the winners located from Moy to Moville, Ballynahinch to Ballycastle, are:
• Casual dining restaurant: Anzac Bistro (Ballycastle)
• Café/coffee shop: Café Marmalade (Banbridge)
• Fine dining restaurant: Coco (Belfast)
• Pub/gastro pub: The Yellow Heifer (Camlough)
• Hotel restaurant: The Catalina Restaurant (Lough Erne, Enniskillen)
• ‪Sunday lunch restaurant: The Foyle Hotel (Moville, Co Donegal)
• Visitor attraction café: Hillsborough Castle Café
• Local produce restaurant: The Café at Montalto (Ballynahinch)
• Family friendly restaurant: La Dolce Vita (Newry)
• 'Free from' restaurant: Wolf & Devour Burger Bar (Belfast)
• Social enterprise café: An Croí (Maghera Co Derry)
• Brunch restaurant: The Moy Larder (Moy)
And whether it is a local coffee shop, a Michelin-recognised eatery, a five- or four-star hotel, or a fashionable local bistro the message is clear. Consumers are looking for a memorable food experience, good service and quality produce. It's no surprirse given that as far as food is concerned, we are a cosmopolitan and gastronomically-literate region. 
Receiving the Greatest Place to Eat Award 2019 is Noel McMeel – Executive Head Chef and Stephen Holland - Executive Sous Chef at The Catalina Restaurant, Lough Erne Resort, presented by  John Brolly - Irish News Marketing Manager, Michele Shirlow - Food NI Chief Executive and Cathal Geoghegan - Managing Director, Henderson Food Service.