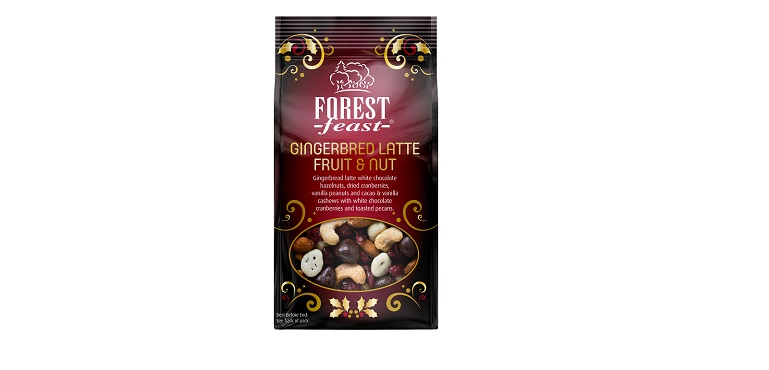 Healthy snack leader launches new snacks for Christmas
Northern Ireland's Forest Feast has added to its range of healthy snacks for the Christmas season.
The additions to its established Christmas range of healthy snacks are: Festive Stuffing and Gingerbread Latte Fruit and Nut. They join the company's Christmas Collection which already features natural fruit and nut mixes, nuts in shells, as well as other sweet and savoury combinations. The new mixes are available in 150g bags at RRP £2.50
The new products are hand-crafted at Forest Feast's headquarters in Craigavon, county Armagh, where its products are uniquely roasted by air and flavoured in-house.
Bronagh Clarke, Forest Feast's marketing director, says innovation underpins the company's business culture. "We are a team who love to explore the world, looking for the best ingredients and inspiration for new recipes and snacks," she adds. "We take this inspiration back home and pour it into our world-leading product development.
"This allows us to react quickly and creatively to new trends and opportunities, equipping retailers with the perfect solutions that enable them to meet consumer demand in this rapidly growing and profitable sector."
Snacking culture had experienced a boom in recent years. "Sixty-six percent of adults now snack at least once a day," she continues "At Christmas, nearly three quarters of consumers are willing to spend more money on groceries which creates significant demand for an even-more diverse luxury product range," she adds.
"Since the business was founded by Michael and Lorraine Hall more than 20 years ago, we've made it our mission to create delicious snacks that fulfil consumers' nutritional needs but also provide the permissible indulgence that consumers seek."
The latest additions to the limited-edition Christmas range, she explains, were inspired by traditional festive flavours.  The Festive Stuffing Mix is a mixture of roasted and salted peanuts, almonds, hazelnuts, pecans and macadamia nuts with Christmas stuffing roasted coated almonds and basil and balsamic cashews.
The Gingerbread Latte Fruit and Nut Mix is seen as perfect for coffee lovers with a mix of gingerbread latte white chocolate hazelnuts, dried cranberries, vanilla peanuts, dried cranberries and cacao and vanilla peanuts, white chocolate cranberries and toasted peanuts.