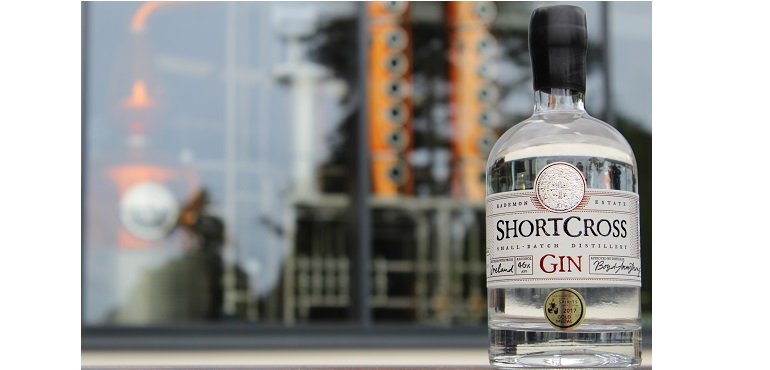 Shortcross Gin to supply Canada's biggest purchaser of spirits
Shortcross, based at Rademon Estate Distillery in Crossgar, County Down, is now supplying gin across Ontario as a result of an agreement with the Liquor Control Board of Ontario (LCBO).  Cited as the world's biggest buyer of alcohol, LCBO currently distributes to almost 700 liquor stores.
Fiona Boyd Armstrong, managing director of the family-owned and managed Rademon Estate Distillery, commenting on the LCBO agreement, says: "We are delighted to gain the approval for the sell and distribution of our multi-award winning craft gin in such immense global marketplace.
"The agreement is the outcome of extensive discussions and subsequent negotiations with LCBO over the past few years – including most recently participation in an Invest NI organised trade mission. It was an exacting process which ended with the endorsement of Shortcross Gin for sale throughout the province.
"As a result of this rigorous process, we are now gearing up to develop what is a marvellous business opportunity for the company in 2020 and beyond," she adds.
Invest Northern Ireland has supported the development of the Shortcross Gin brand, and helped the company reach a number of international markets.
John Hood, Director of Food & Drink, Invest NI said: "The Shortcross team joined our specialist Irish Whiskey and Irish Gin Trade Mission to Toronto, Canada in March 2019. The programme included meeting with the LCBO buyers, potential distributors and gave important insights into the local Canadian market.
"It is great to see the company now able to add Canada to its export markets."
Fiona and husband David, the Master Distiller, established Shortcross Gin in 2012 and built a state-of-the-art distillery and visitor on the family estate outside the county Down village of Crossgar. The unique recipes for the gins have been developed by David Boyd-Armstrong.
Shortcross has won a host of international and national awards for the outstanding flavours and quality of its range of gins which also include an innovative Rosie's Garden Pink Gin.
The innovation-led company creates its gin using fresh water from an artesian stream on the estate and botanicals such wild clover and apples grown there.   These are blended by Mr Boyd Armstrong with juniper, coriander, citrus peels, cinnamon and cassia to create a distinctively refreshing gin.
Shortcross Gin, now Northern Ireland's leading gin, is exported to over 30 countries including Europe, the Middle East and Australasia.
Established in 1927, LCBO is the chief supplier of alcoholic beverages to bars and restaurants in Ontario, which are generally required by law to purchase their alcoholic products through the organisation, which is based in Toronto, the provincial capital and Canada largest city with a population of almost 5.5 million.
Shortcross gin from Rademon Estate Distillery in Northern Ireland