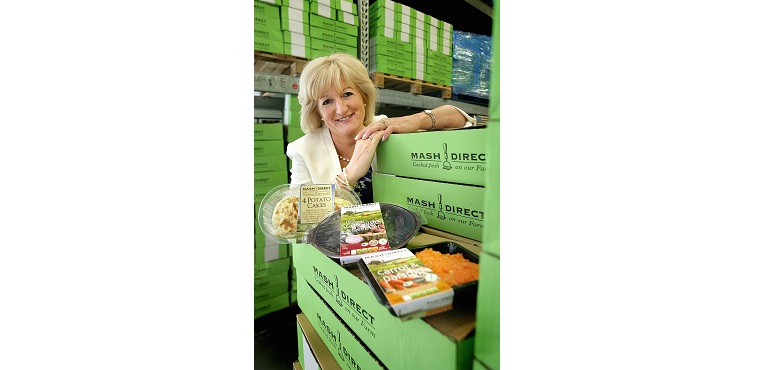 New Year Honour for Mash Direct's Tracy Hamilton
The award was made in recognition for Tracy's "unwavering commitment growing and developing food and drink companies across Northern Ireland as well as championing diversification and diversity in agri-food".
In the early 2000s, Tracy worked tirelessly with her husband Martin to create the Mash Direct brand on the family farm in Comber.  She has since worked to share this knowledge and best practice amongst start-ups for those aiming to set up small food and drink businesses across the region.
Over the years Tracy has worked tirelessly in sharing her knowledge and best practice in food, farming and sustainability through various bodies which led to her becoming the first woman to sit on the Board of NIFDA (Northern Ireland Food and Drink Association) as well as serving as a Visiting Professor at the Ulster Business School at the University of Ulster and a Director of Food NI for ten years.  She is also a Director of the Northern Ireland Heritage Gardens Trust, sits on the Committee of the Irish Tree Society and is the Vice President for Ireland of the International Dendrology Society.
Speaking about her award, Tracy said "This is an incredible honour, I am in total disbelief. I feel very fortunate to be recognised and feel that this award belongs to the Northern Irish Agri-Food Sector as a whole and the incredible enthusiasm and hard work of all involved."  
Tracy has won numerous entrepreneurial and agricultural awards for her contribution to agri-food including:
 • 2016 Associateship of Royal Agricultural Societies (ARAgS)
• 2016 Best Food Hero – Grow, Make, Eat, Drink Awards
• 2015 Outstanding Business Women of the Year – Women in Business Awards
• 2014 Finalist in the Mid-Market Director of the Year – Institute of Directors Awards
• 2013 Agri–Business and Innovation Award – Women in Agriculture Awards
• 2013 SME Director of the Year – Northern Ireland Director of the Year Awards
• 2011 Best in Marketing/Communications – Women in Business Awards