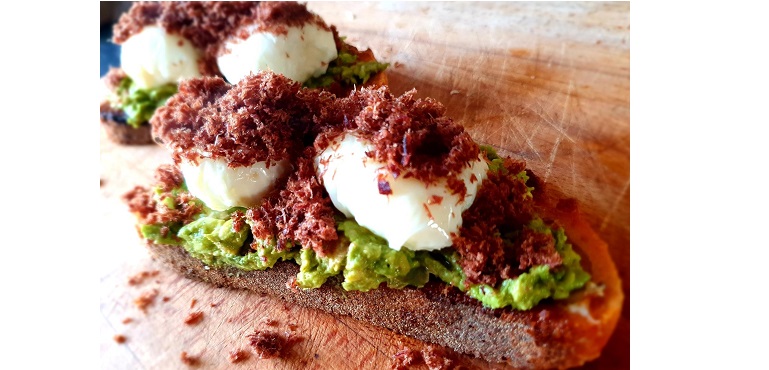 Novel biltong powder from Northern Ireland award winner
Ke Nako Biltong, Northern Ireland's only award winning South African biltong producer, has launched a novel powder for use as a food and meal ingredient.
The company, which has won several awards for the quality and outstanding taste of its small batch cured and air-dried meats, has developed a biltong powder for a wide range of applications including salads, for baking into breads and scones and sprinkling over other foods.
The unique powder joins a successful portfolio of hand cured meats including Biltong Droewors, dry cured and spicy sausages, and Droewors Bites. Ilse van Staden, who formed Ke Nako Biltong in 2012 with wife Alanagh, says the latest product is the outcome of the small company's focus on waste reduction. "Our business is implementing a zero-waste strategy and developed the powder as a
solution for the trimmings from the biltong slicing process. It gives a use for the dry biltong ends that used to go into waste.
"We invested in an industrial grinder earlier in the year and have been producing the  powder for retail in the first instance. It will be available from our website. There may also be opportunities in foodservice," adds Ilse, an experienced butcher and chef who is originally from Pretoria.
"Feedback from taste tests has been extremely positive. For instance, I've found the powder to be a perfect topping on poached eggs on sourdough and also on toasted cheese," continues Ilse. "The powder can be used to make a delicious biltong pate with cream cheese and fresh herbs. There are really so many uses for the biltong powder," she adds.
Based on an organic farm near Ballyclare in county Antrim, Ke Nako has won respect throughout the UK and Ireland for the biltong products which are now recognised as popular snacks rich in minerals such as zinc, iron, magnesium and vitamin B-12; all essential for the body to function. The beef snack is also rich in nutrients and contains 40.8g of protein per 100g.
The biltong is based on a unique South African recipe using certified organically reared beef that's been cured in organic red wine vinegar with a rich blend of spices from salt, black pepper, coriander seeds, nutmeg, and cloves before being air-dried on-site.
 
Ke Nako won the gold medal for the quality and taste of its biltong in the Blas na hEireann Irish National Food Awards and the BBC Top of the Shop award, both in 2018.