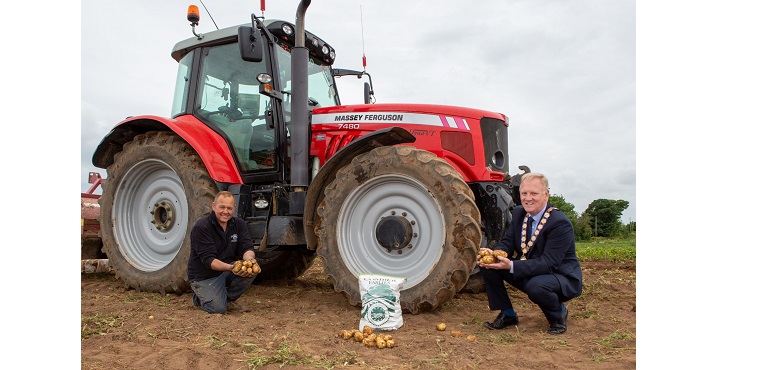 Tasty harvest of first season potatoes in Northern Ireland
 The first New Season Comber Earlies, which have had EU Protected Geographical Indication status since 2012, are now in the shops in many parts of Northern Ireland.
 The potatoes, which are grown around the town of Comber in county Down, are prized for their distinctive earthy, nutty flavour and smooth, soft skin…and are best served with a knob of creamy butter and a sprinkle of salt!
 Comber Earlies are the first potato harvest of the year and provide the perfect opportunity for shoppers to 'support local'. By purchasing Comber Earlies, consumers are supporting local food production and are guaranteed to have high-quality, flavoursome potatoes that have been grown by local farmers who uphold the highest environmental, animal welfare and food production standards.
 Comber Earlies are available from the beginning of June until the end of July and are the first new season potatoes available in Northern Ireland. They have been grown on the shores of Strangford Lough since the early 17th century where the milder climate and fertile soil provide ideal conditions.
The potatoes tend to be richly flavoured and are famous for their unique taste. The first Earlies are usually harvested in small quantities and eaten straight away while second Earlies and salad varieties can also be harvested in small quantities and eaten when fresh in June and July.
Alternatively, if the skins are allowed to 'set', they can be lifted in September and stored in a cool, dark, frost-free area as main crop varieties.
Comber farmer Harry Hamilton, of DJH Hamilton, one of a small group of growers of the iconic potatoes, says: "The potatoes were planted in early February and we're now busy harvesting our crops on a daily basis.  The recent spell of warm weather has added to the flavour of the Earlies and we've received some great feedback already from our distributors and customers."
 The Mayor of Ards and North Down, Councillor Trevor Cummings, adds: "It's important that we all support our local food producers. They have been working hard during these difficult times to ensure that we continue to have food on our tables and the quality of their produce is unrivalled. I would encourage everyone to purchase produce that has been farmed locally when they go shopping."
Pictured are: The Mayor of Ards and North Down, Councillor Trevor Cummings, pictured with Harry Hamilton of DJH Hamilton, Comber.