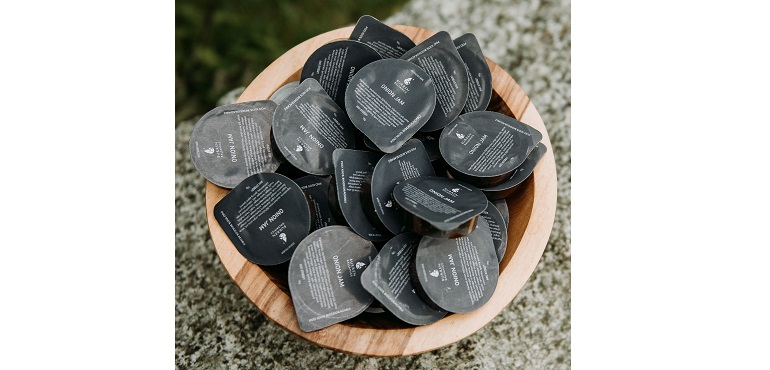 Burren Balsamics lands first business with Aer Lingus
Burren Balsamics in Northern Ireland, a leader in the development and production of natural fruit infused balsamics, relishes, jams and condiments, has won its first business with Aer Lingus.
The artisan producer, which is based at Richhill in county Armagh, is supplying pods of onion jam for passengers on Aer Lingus European and US flights from Dublin.
The contract with Aer Lingus follows Burren's participation in a 'meet the buyer' trade exhibition organised by the airline, part of International Airlines Group, for established and new suppliers last year, according to Susie Hamilton Stubber, the Armagh company's founder and managing director.
"We met representatives from an airline distribution company at a trade show in Heathrow airport and were subsequently invited to tender for a new concept idea in their business class cabins.  The Innoveat exhibition was a marvellous business opportunity and a great networking occasion for us to showcase our products and to gain invaluable feedback from buyers about the exact requirements of airlines," Mrs Hamilton Stubber says.
Aer Lingus subsequently placed a significant order for the Northern Ireland company's onion jam in 18g pods.
"The order is very timely because much of our established business with foodservice operations such as high-end restaurants and hotels has been adversely impacted by the lockdowns in our key markets including the United Kingdom and Republic of Ireland. We are looking forward to the reopening of the hospitality sectors in the UK and Ireland next month.
"We are thrilled to be supplying such an important and influential client in foodservice as Aer Lingus. We'll be doing everything in our power to build on this initial business. We'd love to supply them with our unique balsamic vinegars and relishes," adds Mrs Hamilton Stubber.
The onion jam is among several original products from the company's zero waste strategy which has seen it use the previously infused fruit, vegetables, herbs and spices from its production of its multi-award winning balsamic vinegars to create other innovative flavours
The jam is a product of the infusing ingredients from the two star Great Taste Award winning roast onion black balsamic vinegar.
Mrs Hamilton Stubber and development chef Bob McDonald are committed to the zero waste campaign which has seen them turn secondary products into a range of novel foods for their company as well as another local artisan producers including Ballylisk of Armagh Triple Rose Cheese.
"We have long been committed to waste elimination and measures to reduce our impact on the local environment," she continues. " Diversifying into another novel and artisan product range has also enabled us to grow our overall business."
And it's also a strategic focus that's increasingly adding to the company's bottom line. "We are seeing existing and potential new customers placing orders because of the strength of our commitment to zero waste and ethical production," Mrs Hamilton Studder continues.