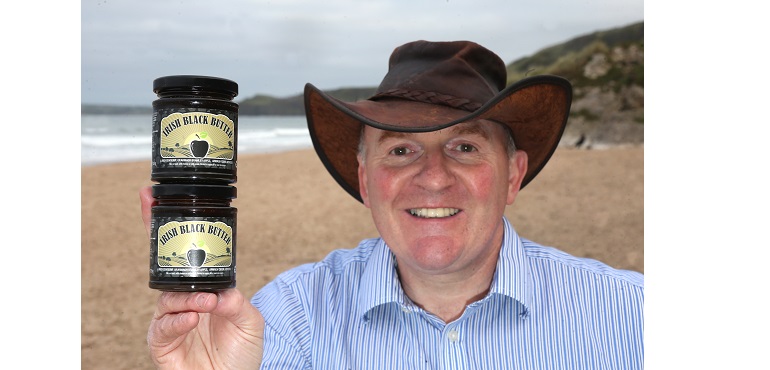 US develops taste for Irish Black Butter
Irish Black Butter, the Northern Ireland producer of an award-winning sweet/savoury artisan butter, shipped its first products to the US during the lockdown and has just signed other retail deals in Britain and the Republic of Ireland.
Based in Portrush, county Antrim, Irish Black Butter is run by artisan entrepreneur Alastair Bell. He lined up the US deals to supply a specialist food group in Boston, a hamper business in New York and a hospitality operation in Boulder, Colorado. These are the small company's first major export contracts and first sales to the US.
The other external business just sealed by Mr Bell are Wine and Rind, a specialist retailer in Tottenham, London, and Pat Healey Craft Butchers in Arklow. Up market retailer Fallon and Byrne in Dublin has also added Irish Black Butter to the menu in its highly regarded restaurant.
'I've been developing the contacts with the Boston specialist food group for several months," says Mr Bell. "We agreed a deal. I then shipped a consignment of our Irish Black Butter to them during the lockdown.  "It's a tremendous boost for my business at this very difficult time. I am really looking forward to working with them and receiving feedback from this important food group's customers about Irish Black Butter.
"The sales in New York and Colorado also came from direct approaches from the companies there which had heard about my unique product. There's clearly a growing awareness of the product in the US through social media and other publicity.
"Wine and Rind in London is another successful specialist retailer in London and is an encouraging piece of business in a key market for us. It's one which I've been developing through participation at events such as the iconic Borough Market. The Wine and Rind business, however, came from a referral by Mike Thomson of Mike's Fancy Cheese in Newtownards who supplies his Young Buck cheese to the shop," he adds.
The new business in Healey's in Arklow, among the best known family butchers in the town, came from another direct approach from the company to Mr Bell.
Irish Black Butter won a coveted three-star gold in last year's UK Great Taste Awards, has also been successful in the Blas na hEireann Irish National Food Awards and featured in the BBC2 Dragon's Den in 2019.
Irish Black Butter is now on sale in dozens of delis, smaller grocery stores and family butchers in Northern Ireland and the Republic.
In addition, the savoury butter, which is made from Armagh Bramley apples and spice, has been selling well in Britain from its listing by the Artisan Food Club, one of the biggest online shops in Britain for artisan foods.
Mr Bell established Irish Black Butter in 2017 to turn an idea for such a distinctively Northern Irish product into commercial reality.