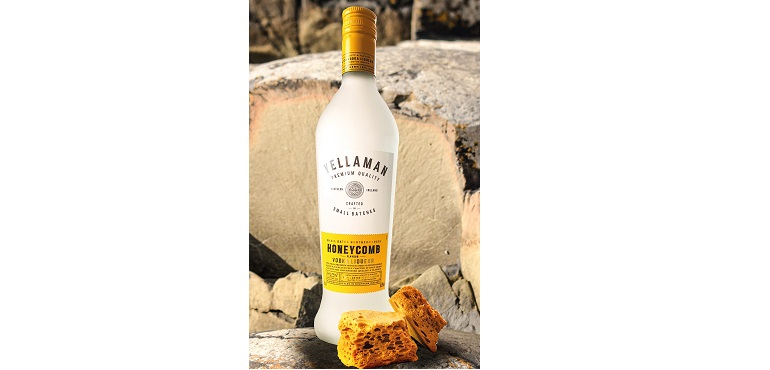 YellaMan – a honeycomb flavoured vodka from Derry's Niche Drinks
Niche Drinks in Derry, best known for its award winning St Brendan's Irish Liqueur, has launched YellaMan, a vodka based spirit featuring honeycomb.
The liqueur is based on Yellowman, the traditional Northern Irish sweet that's a feature of popular festivals including the colourful annual Auld Lammas Fair in Ballycastle, county Antrim.
The new liqueur is aimed at local and international markets, according to managing director Ciaran Mulgrew, who says inspiration for the new drink came from "fond childhood memories" at the annual event.
"When I was a kid, we spent a lot of time up in Ballycastle and I always loved the Auld Lammas Fair and in particular Yellowman, the hard-boiled honeycomb sweet that you find all around the North Coast of Northern Ireland," he adds. "Yellowman always struck me as a great flavour. I've always just enjoyed it.
"Over the years I always thought it would be a great flavour to put into a liqueur, and that's where the idea behind YellaMan came from. It's a fantastic honeycomb and burnt caramel flavour which really comes through on the nose and on your palate."
Niche Drinks, which was founded in 1983 to develop and market an Irish liqueur, St Brendan's, now one of Ireland's best-selling flavour.
Niche Drinks is a small, independently owned drinks manufacturer of a range of spirits including the multi-award winning Quiet Man Irish Whiskey.
Since 1983 the company has been producing cream liqueurs, Irish coffee, and ready-to-drink cocktails for retail partners in Ireland, the United Kingdom, the United States, and Europe. Additionally, Niche Drinks works with multinational drinks companies keen on us using its expertise to create brands for them to market and sell from Boston to Bangkok.
The company has created a successful technical system that offers full product traceability, from a single defined cream source through to finished product either bottled or in bulk.