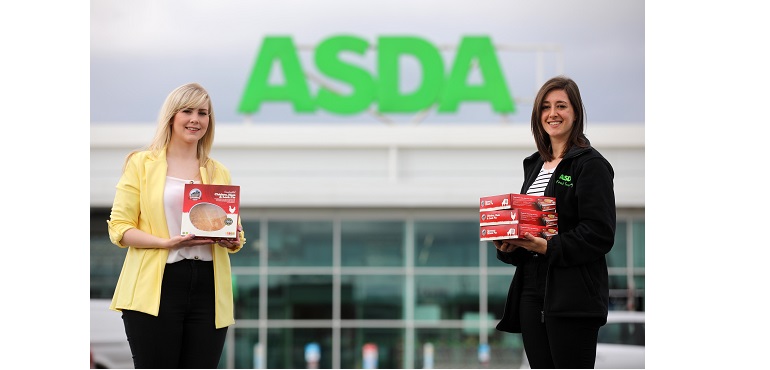 Cloughbane Farm secures new Asda business for homemade pies
Successful farm business Cloughbane Farm has secured a new listing from Asda Northern Ireland for two products.
The family owned and run company, which is based near Pomeroy in county Tyrone is supplying the supermarket with two homemade pies – chicken, ham and leek and a savoury mince for 11 stores across Northern Ireland.
The latest listing brings the number of Cloughbane products now being sold by Asda across Northern Ireland over the past 10 years up to 17.
Amy, the marketing manager of the farm-based business, says: "We are thrilled to have this new launch and bring even more variety to the Asda customer. The newly listed pies are both Great Taste Award winners. We are confident that Asda customers will love them too!
"The chicken ham and leek pie is one of our best-selling lines. And it's easy to see why because the pie is made with pure chicken breast, succulent chunks of ham cooked in a homemade white sauce with leeks and sweetcorn before being encased in a delicious puff pastry. It's truly a taste of home!"
Mrs Robinson continues that Cloughbane has seen "a surge in consumers wanting traditional family foods as families are spending more time eating together than ever before" during the coronavirus pandemic.
 "This is where we at Cloughbane come into play. Our pies are just an example of the high quality, locally produced meal that families love to eat. We produce our meals using the finest quality ingredients so you know that you getting something that is not only delicious but nutritious!"
Cloughbane Farm Foods has won a series of gold Great Taste Awards for its range of ready meals.
The company, based on a 180-acre cattle and sheep farm in county Tyrone, was established as a farm diversification project by husband and wife team Sam and Lorna Robinson. The farm has been in the Robinson family since 1906.
Cloughbane Farm supplies a comprehensive range of fresh beef, pork and chicken all from a modern butchery which approved to the highest EC hygiene standards.
Amy Moore, marketing manager, left, at Cloughbane Farm Foods with Emma Swan, Asda Buying Manager.