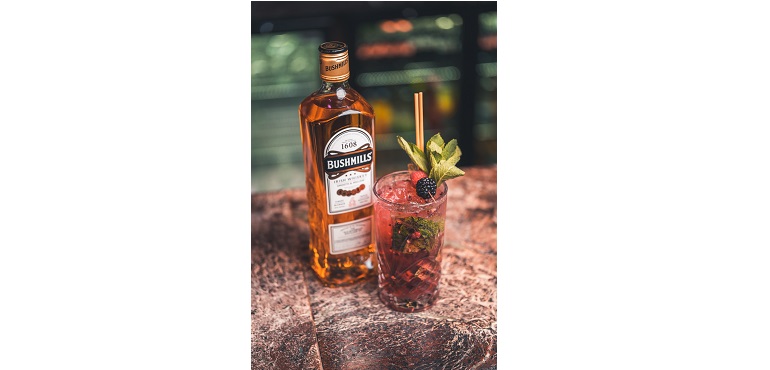 Three Perfect Summer Cocktails from Bushmills
As the weather grows warmer, the sun lingers longer in the sky, and we begin lighting the barbecues, it's time to start thinking about this summer's refreshing beverages. 
Whether it's a barbecue with friends, a quiet night outside watching the sunset or a weekend afternoon pick-me-up, Bushmills Irish Whiskey make the perfect base for this summer's cocktails.
Bushmills Irish Whiskeys are made with passion, great care and supreme craftmanship at The Old Bushmills Distillery on the rugged Northern coastline, and each whiskey shares that same malt-rich taste and triple-distilled, smooth sip. With over 400 years of innovation in every bottle, this is what great whiskey tastes like.
Here are three great, easy-to-recreate whiskey cocktail recipes that are sure to tantalise taste buds and go down a treat on these long (and hopefully dry!) summer nights.
BUSHMILLS BERRY SMASH
Ingredients
35ml Bushmills Original

15ml lemon juice

Mint, blackberries and raspberries

Soda water

Crushed ice
Method
1. Muddle mint, blackberries and raspberries in a highball glass.

2. Add 40ml Bushmills Original.
3. Add 15ml lemon juice. 

4. Add crushed ice and top with soda.

5. Garnish with some leftover raspberries, blackberries and mint.
Serve and enjoy!
BUSHMILLS SWEET CRIMSON
Ingredients
35ml Black Bush

25ml Anam Irish Citrus

20ml orange sherbert

15ml grenadine

Apple slices (apple fan garnish)

Cubed ice
Method
Add all ingredients to shaker with ice and shake.

Strain into a fresh coupe glass.

Garnish with an apple fan.

Serve and enjoy!
BUSHMILLS 10 YEAR OLD TIPPERARY
Ingredients
35ml Bushmills 10 Year Old Single Malt

12.5ml sweet vermouth

12.5ml Green Chartreuse
Method
Stir the ingredients over ice until chilled.

Strain into a fresh glass,

Garnish with an orange peel twist.

Serve and enjoy!
For more cocktail inspiration and recipes, follow Bushmills Irish Whiskey on social media
@BushmillsIRL.
Photo credit: Dillon Osbourne