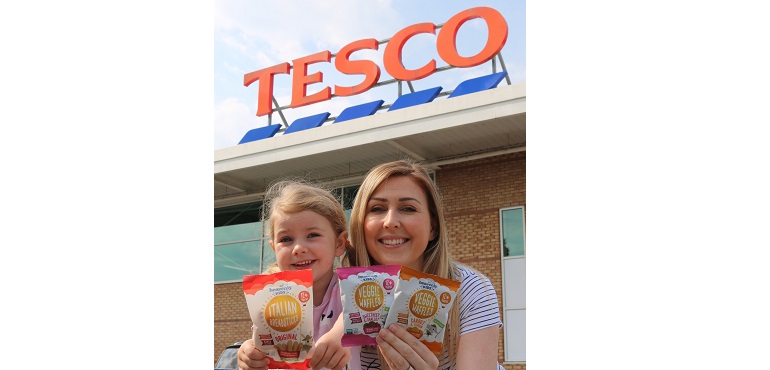 Heavenly Tasty secures Tesco Ireland listing for healthy snacks for toddlers
Heavenly Tasty Organics has secured a listing for three novel products for young children with leading Irish retailer Tesco Ireland. The company, based in Northern Ireland is an award winning and producer of natural and healthy foods for babies and toddlers.
Heavenly Tasty, which is based at Augher in County Tyrone, is supplying its original Breadsticks for toddlers to Tesco for 100 stores across the Republic of Ireland. The other products that Heavenly Tasty will supply are Sweet Beet Veggie Waffles and Carrot and Cumin Veggie Waffles to 45 stores. All the products are now on sale in the stores and online at Tesco.ie.
The company's latest contract in the Republic was secured with help from Dublin-based Total Brand Solutions, the Northern Ireland company's distributor in the Republic, according to Shauna Blair, the founder and managing director of Heavenly Tasty Organics.
"Securing this listing with Tesco Ireland is an immensely exciting development in the Republic, a market we've been targeting for several years," says Mrs Blair. "We are thrilled to be supplying Tesco which is such an influential and respected retailer with a tremendous community engagement.
"The listing strengthens significantly our presence in this dynamic marketplace. Our commercial director James Blair has worked with Tesco Ireland directly on product presentation and merchandising to maximise this exciting business opportunity for us.  The contract with Tesco will increase awareness of our healthy snacks with parents of young children. Total Brand Solutions will be looking after the distribution for us," she adds.
Alison O'Doherty, Tesco Ireland, commented: "At Tesco, we're always looking to add new and exciting products to our range that provide a helpful, tasty solution for parents of babies and toddlers. We look forward to working with Heavenly Tasty and bringing these tasty products to our customers across the country."
Tesco operates over 150 supermarkets in the Republic and has won a series of awards for its services to engagement with the community there. It is recognised as a retail industry leader. It employs over 13,000 people and is recognised as among the very best employers. It sources products from over 400 Irish food and drink suppliers.
Mrs Blair, a mum of four young children, established the company in 2009 and runs it with husband James, the commercial director, from their base in Augher Business Park. She began making her own natural foods when she was unable to find the type of healthy products for babies and toddlers anywhere in Northern Ireland.
The small family business has collected a string of national and international awards including the prestigious UK Quality Food and Drink Award as the Best Baby Snack for its healthy Veggie Waffles in Sweet Beet and Shallot flavour.
Another organic product, Yummy Wafer Wisps Spinach, Apple and Kale, was shortlisted in the quality awards.
Shauna McCarney Blair of Heavenly Tasty Organics is supplying three novel products to Tesco Ireland. She is pictured with daughter Lily (4)