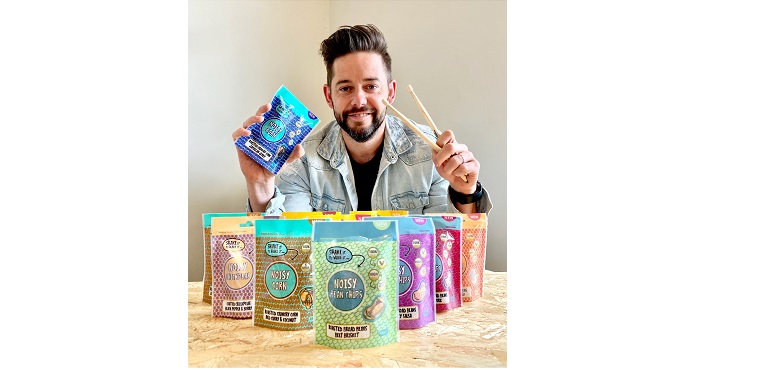 Northern Ireland's Noisy Snacks in deal with Diverse Foods
Northern Ireland's Noisy Snacks, the award winning snack brand that engages all the senses, has signed a listing to be distributed to high-end independent stores by Diverse Fine Food in the UK. 
Nicki Stewart, Diverse Fine Food, says: "We are unique in the industry, being very selective with our brands and having incredibly high standards. We restrict our products per category, not wanting to over populate a catalogue with multiple brands. Noisy Snacks stood out with their extraordinarily memorable flavour palette, and for their unique brand experience which engages all of the senses."
Noel Allen, founder, Noisy Snacks, adds: "We are proud to have such a great partner as Diverse Fine Food. Our snacks are massively on-trend for 2021 providing not only a delicious and satisfying snack, but also a sensory experience. Our snacks are developed to work on multiple levels for optimal mouth-feel and engaging all of the senses to deliver a truly unique snacking experience." 
 
With double the amount of flavouring as regular snacks (8g instead of 4g per pack) the snacks provide a noisy, explosive mouth sensation. The 45g fully recyclable pack must be shaken loudly before opening to wake the flavour inside. They are flexitarian with vegan options in the range, and a good source of protein coming in 4 x varieties:
Noisy Nuts:

Air roasting our quality nuts marinades each kernel for a full bodied flavour trapping flavour inside the crunch. Available in 3x flavours including Pickled Onion Nuts RRP £1.29     


 

Noisy Bean Chips:

Beans chips are hot right now — especially these ones. High-protein, high-fibre, high-five. The crunch, hint of spiciness and saltiness of our bean chips make them a moreish sensation. Available in 3x flavours including Beef Brisket RRP £1.29
Noisy Corn:

Roasted to a perfect, gentle crunch —

 Individual crisp corn kernels shrouded in deep intense flavour combinations.  Available in 3x flavours including Red Curry and Coconut RRP £1.29
Noisy Chickpeas:

Noisy Snacks' Chick Peas are precious orbs of flavour that, (once inside the mouth), tend to 'pop' in the most satisfying fashion. Available in 3x flavours including Piri Piri Mango RRP £1.29
Noisy Snacks is dedicated to creating delicious healthier snacking experiences that are memorable and fun. Noisy Nuts put taste first with bold flavours and an experience that engages people's taste, feel, sight and smell.
Noel Allen, who established the business in 2018, has 10 years' experience in FMCG working for Coca Cola, Red Bull and 6 years working for Boost Drinks.