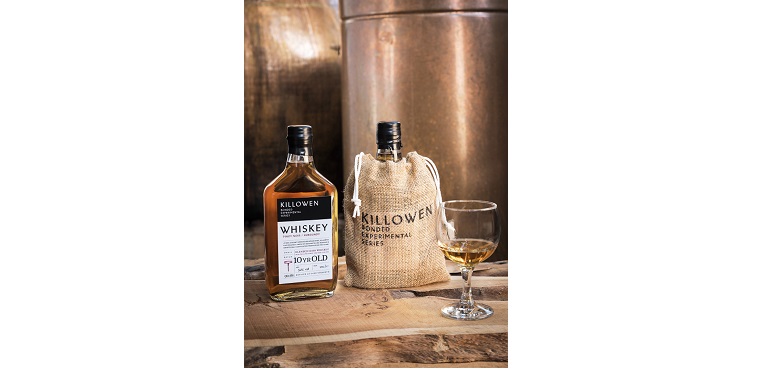 Killowen Distillery launches a Rare 'One Cask' Irish Whiskey
Killowen Distillery in Northern Ireland is launching the fifth in its 10-year Bonded Experimental Series of Irish whiskeys. It's a rare one-cask release.
The whiskey is a Pinot Noir Burgundy 56 percent Cask finish, small batch (388 bottles), cask strength, non-chill filtered, no colouring, a 10-year-old blend with transparency at it's core.
Killowen Distillery, based near Rostrevor in county Down, is continuing to set a new standard for Irish Whiskey. 
Brendan Carty, managing director of Killowen, says: "We had hoped to release this as cask number 1 rather than number 5, unfortunately last year, this cask was over powered by the rich European Oak tannin and it's inherent red wine berry notes.
"We spent the past year trying to rescue it, firstly by removing half its contents and adding in new whiskey of the same vintage and proportion, luckily the initial cask shock had already been absorbed into the whiskey and we spent the rest of the time letting the spirit become part of the cask once again. 
"The biggest challenge with this range is maintaining the very high standard of previous releases while making a very different expression. Thankfully, the same successful and unique Killowen blend has been introduced to a very different cask and created another top class expression," he adds.
 From the outset, Killowen Distillery has been carefully sourcing whiskeys 12, 11 and 10  years old from different distilleries all across Ireland. 
"We also hunted the globe for the finest casks to complement certain flavour notes in the blends, this time we have gone to the famous burgundy region of France.
"Killowen hopes to be an exemplar for industry progression, these integrity bottlings have quality, spirit and transparency as core values. We believe a bottles packaging should provide the consumer with all details regarding sourcing, blend ratio and finish. 
"The fact that it is not Killowen distilled spirit but rather, as the names suggest, a blended/ bonded spirit - is clearly set out. Providing the consumer with all of this information allows a deeper understanding of the flavour breakdown."
This whiskey is the fifth in a set of different whiskeys that will be released over a two-year period. "Finishing only 387 no. 50cl bottles at cask strength 56%, this Pinot Noir Burgundy cask was specifically chosen for its freshness and vibrancy, creating a unique small-batch spirit with a full-bodied experience," adds Brendan