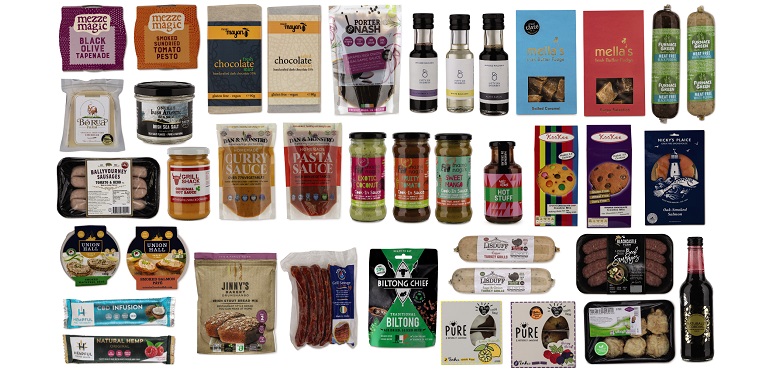 Back by popular demand! 27 Grow with Aldi suppliers return nationwide!
Aldi has invested over €2.5million with Irish Grow with Aldi Suppliers since the programme began in 2018
Aldi announced today the return of 48 products from 27 suppliers including three Northern Ireland-based suppliers, which were part of the Grow with Aldi supplier development programme in May of this year. Each product was on sale for 2 weeks and these fantastic Irish products are returning to Aldi shelves nationwide for a limited time only from Sunday, 13th September.
The Northern Ireland companies include Co Armagh-based Bureen Balsamics and Meadow Farm Quality Foods and Co Antrim-based Tom and Ollie.  
Aldi has invested over €2.5 million in the Grow with Aldi programme since it began in 2018.
Developed in partnership with Bord Bia, Grow with Aldi supports small and medium sized Irish suppliers to gain exposure and experience with a major retailer in Ireland.  Suppliers receive tailored mentoring, workshops from the Aldi Buying Team and Bord Bia technical experts, teaching them the skills to help grow and develop their product, brand and business.
Commenting, John Curtin, Aldi Group Buying Director, said:
"Grow with Aldi has consistently delivered for everyone involved. Small and medium sized Irish suppliers get the opportunity to have their product sold nationally, shoppers get to enjoy the best Irish-made products being created and Aldi gets to work with even more Irish suppliers. This means more Irish products on shelves for customers, as well as support for these suppliers during these challenging times. With all that has happened worldwide over the past few months, there couldn't be a better time to be buying more Irish."
Tara McCarthy, Bord Bia CEO, said:
"At Bord Bia, we believe in supporting and enabling the growth of small Irish businesses. The Grow with Aldi programme enables skilled and creative craft producers to scale their business quickly, by applying the knowledge and skills they have gained from workshops and tailored mentoring to a full listing at a national retailer. Irish consumers benefit too as they get the chance to experience new distinctive high quality products made locally, and support the growth of ambitious and innovative Irish suppliers."
Susie Hamilton Stubber of Burren Balsamics commented:
"Getting a place in the Grow with Aldi programme this year in particular, has been a shot in the arm for my business, and I am extremely grateful for it. In these uncertain times, getting an order to supply Aldi shops in the Republic of Ireland has meant cashflow is guaranteed for the next few months. For a very small business based in a small community, it's a lifeline that will resonate throughout the community."
The following products will be on shelves from Sunday, 13th September for a limited time only.
Louth:
KooKee – Spotai Chocolate Chip Cookie Mix and Double Chocolate Chip Cookie Mix - €3.59 each
Meath:
Adriatic Taste Ltd – Spicy Sausages and Grill Sausages - €4.99 each
Wicklow:
Pure Treats – Berry Burst Mini Cake and Lemon Drizzle Mini Cake - €2.99 each

Porter & Nash – Original Gravy and Balsamic Gravy - €3.29 each
Dublin:
Meltown – Meltdown Hot Stuff Sauce - €3.79

Dan & Monstro Foods Ltd – Homemade Pasta Sauce and Homemade Curry Sauce - €3.49 each

Nicky's Plaice – Nicky's Plaice Oak Smoked Salmon - €2.99

Mama Nagi's – Fruity Tomato Cook-In Sauce, Sweet Mango Cook-In Sauce and Exotic Coconut Cook-In Sauce - €3.29 each
Kildare:
The Grillshack – Hot Wing Sauce - €3.29
Leitrim:
Jinny's Bakery – Irish Stout Bread Mix - €3.65
Offaly:
Biltong Chief – Chief's Chilli Beef Biltong and Original Flavour Beef Biltong - €2.85 each
Wexford:
Naturally Cordial Ltd – Lemon & Lime Leaf Cordial and Wexford Blackcurrant Cordial - €3.99 each

Jimmy's Kitchen – Potato Cakes in Golden Batter and Potato Cakes in Herb Breadcrumb - €3.89 each
Monaghan:
Hempful – Hempful Natural Health Bar, Hempful CBD Infusion Bar and Hempful Sports Plus Bar - €2.99 each
Mayo:
Furnace Green – Meat Free Vegan White Pudding and Meat Free Vegan Black Pudding - €2.29 each
Armagh:
Burren Balsamics – Blackberry & Thyme, Black Garlic Infused Balsamic Vinegar and White Balsamic Vinegar - €4.49 each

Meadow Farm Quality Foods – Orchard Smokehouse Smoked Chicken Wings - €3.49
Antrim:
Tom and Ollie NI Ltd – Black Olive Tapenade and Smoked Sundried Tomato Pesto - €2.49 each
Clare:
Magic Mayan Chocolate – Vegan Salted Caramel Dark Chocolate, Vegan Zesty Orange Dark Chocolate and Vegan Fresh Mint Dark Chocolate - €3.93 each
Cork:
Irish Atlantic Sea Salt Ltd – Pure & Natural Sea Salt - €2.49

Mella's Fudge – Fudge Selection Pouch and Salted Caramel Fudge Pouch – €4.42 each

De Róiste Foods – Ballyvourney Tomato & Herb Sausages and Herb & Garlic Sausages - €1.99 each

Bó Rua Farm Cheese – Original Irish Farm Cheddar - €2.99

Union Hall Smoked Fish Ltd – Smoked Salmon Pâté and Smoked Mackerel Pâté - €3.29 each
Tipperary:
Irish Piedmontese Beef – Beef Piedmontese Gourmet Sausage - €3.99

Lisduff Fine Foods – Cajun Turkey Grills and Sage & Onion Turkey Grills - €2.79 each
The above products and more are on sale in 143 Aldi stores nationwide from Sunday, 13th September for a limited time only.