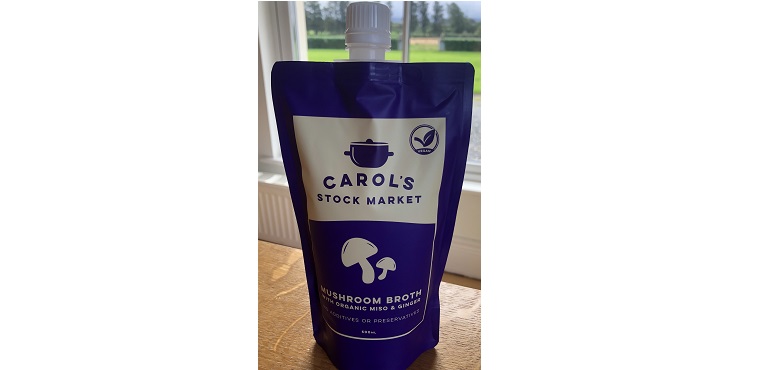 New natural broths from Carol's Stock Market a boost for the immune system
Carol's Stock Market, the Northern Ireland specialist in natural bone stocks and broths, is launching two new broths following a collaboration with celebrity chef Paula McIntyre.
The latest broths from the small business, which is based in Derry, are a vegan-friendly Mushroom Broth with organic miso and ginger with the distinctive flavours of Wild Atlantic seaweed and Ballyhoura mushroom umami from Limerick, and a Cottage Bone Broth with free-range pork, turkey and chicken.
Carol Banahan, the founder and managing director of Carol's Stock Market, which recently expanded into bigger premises to meet the growing demand in Northern Ireland, the Republic of Ireland and Great Britain for its portfolio of natural products, says: "The mushroom broth has both delicate and robust flavours, while the cottage broth is full of protein and collagen and is a very tasty product. They are both gluten-free, a feature of all our bone broths and gravies.
"Our cottage broth is so versatile and can be used for many different dishes. It is also great for supporting the immune system, especially important at this very challenging time for everyone, as it is super high in collagen at around 14g per pouch," Carol adds.
The two products are the first developed since chef Paula McIntyre was invited by Carol to work with her on original broths and some new innovative and on-trend products. The new broths also reflect the commitment of both Carol and Paula to source ingredients from local farms.
Carol's Stock Market received assistance from business development agency Invest Northern Ireland. towards the new products.
John Hood, Invest NI's Director of Food & Drink said: "Invest NI has worked with Carol's Stock market for many years to support its growth and development. Our Innovation Voucher Programme helped the company to develop its innovative broths and since then we have offered it support to hire a new staff member and carry out market development activities to help it grow in export markets. It is great to see companies, especially during such challenging times, have the confidence to continue to invest in their businesses to aid growth."
Carol launched the company in 2016, a year after a return to Ireland following a career in finance in Canada. Her first natural stocks were based on her experience in Canada. Her bone broth quickly proved to be an outstanding success with consumers in Northern Ireland and the Republic. Sales in Britain followed swiftly.
The small company has won widespread acclaim, including Great Taste Awards from the UK Guild of Fine Food and from Blas na hEireann, Irish National Food Awards. Carol's free range chicken stock was named 'Chefs' Larder Choice' at Blas na hEireann final by a panel of top chefs.
The company's focus is on the slow-cooking process which unlocks nutrients in the meat stocks and helps to promote good digestion naturally, helps to boost immunity, keeps bones and joints strong and promotes healthy hair, skin, and nails.
Beef bone broth, she says, is "extraordinarily rich in protein (almost 20 grams per pack), a source of minerals that support the immune system". It is also known to contain healing compounds like collagen, glutamine, glycine and proline.
Glycine supports the body's detoxification process, digestion and the secretion of gastric acids. Proline, especially when paired with vitamin C, supports good skin health.
The broth is another stage towards her objective to develop a successful international business focused on natural stocks, soups and sauces using highly nutritious, healthy and traceable ingredients from local suppliers.