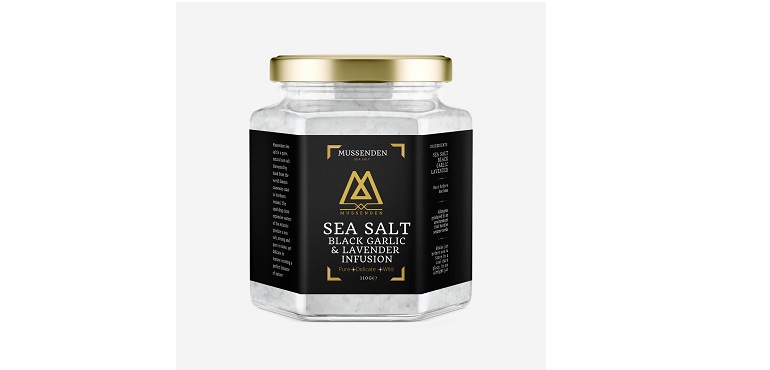 Lavender and Garlic Sea Salt created by Northern Ireland producer
A unique lavender and garlic infused sea salt has been launched by Northern Ireland's only producer of the condiment.
Mussenden Sea Salt, which is based in Coleraine, County Derry, has developed the novel product from salt harvested by hand from along Northern Ireland's world famous Causeway Coast that's swept by the Atlantic.
The new salt is the brainchild of artisan producer Claire O'Kane from discussions with local chefs. "The lavender and garlic sea salt is an exclusive blend that, I believe, cannot be found anywhere else at present," she says. "I had been discussing flavours with a friend, and as we began to blend infusions the magic happened with the black garlic and lavender."
"It's a delicious combination and is ideal for any food from lamb, chicken and even chocolate," she adds.
The sparkling clean waters of the Atlantic produce a sea salt, carefully produced using age old traditions, which is strong and pure in taste, yet delicate in texture, to create a perfect balance of nature.
Claire, who formed the artisan business in 2019, adds that trials with local chefs have produced "extremely positive and immensely encouraging feedback".
The new salt is available in sample version from £1.99 and in 110g jars at £6 from the company at present. Some delis in Northern Ireland are stocking the product and there are plans to expand to Great Britain. The unique condiment is also available in compostable bags for food service.
Claire decided to launch the sea salt when she saw a gap in the local marketplace for a locally sourced product. Her approach is guided by a commitment to ethical production that is as close to nature as possible. As a result, plastic is not used in the production by Claire, a native of Coleraine with considerable management experience.