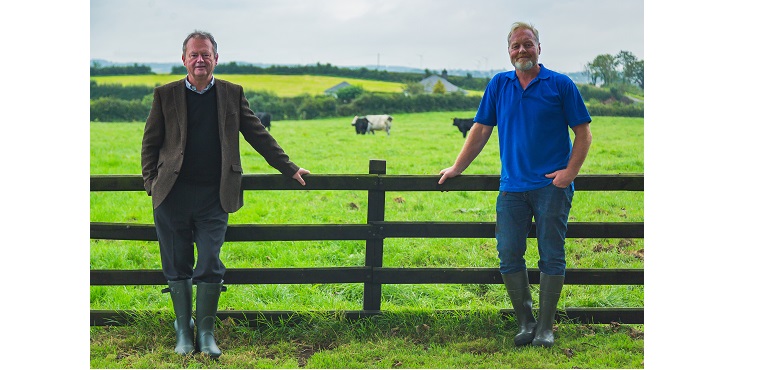 McDonald's maps out local suppliers to support industry
McDonald's customers in Northern Ireland are able to see the ingredients sourced locally that make some of their iconic favourites, and just how close they are to the farmers and growers that produce them.
The new Map My McDonald's interactive tool allows customers to see which quality, fresh ingredients are grown in Northern Ireland, and to meet some of the 23,000 British and Irish farmers that supply them.
The map has been created as a new study shows that people in Northern Ireland care more about local farmers and locally sourced food following lockdown. Over a half (51%) now say that supporting local farmers and growers is important to them, while a third (36%) say they want to eat out more to support local food providers and farmers.
 The YouGov poll of more than 2,000 adults also found that over two fifths of people here (44%) say their appreciation for locally sourced food has increased since lockdown, with beef (71%), eggs (71%) and milk (67%) taking the top spots for ingredients most want restaurants to source from local suppliers.
Alongside the map, McDonald's is also shining a light on the real-life McDonald's farmers in its latest national advertising campaign, paying tribute to the 23,000 British and Irish farmers that are McDonald's 'essential ingredient'. A new TV advert also highlights the surprisingly local ingredients that go into McDonald's great value favourites – whether it's the 100 percent British and Irish beef in McDonald's burgers, the free–range eggs for McDonald's breakfast or the potatoes for its iconic Fries.
Customers can go to MapMyMcDonalds.co.uk to learn all about the quality, fresh ingredients like beef, eggs, milk and potatoes that are grown in their region and meet the farmers that live and work in their local area. 
As part of its long heritage in supporting farming, McDonald's has announced two new partnerships. The first will see McDonald's and The Prince's Countryside Fund in Northern Ireland launch the 'Ready for Change' workshops to help livestock farmers prepare for the future, in early 2021.
The second will see McDonald's together with its long–standing potato partner McCain, launch the Sustainable MacFries Fund, providing over £1 million in grants to British potato growers to help improve water and soil sustainability.
The partnerships compliment McDonald's support for young farmers through its annual Progressive Young Farmers programme, which seeks to invest in the future of the farming industry.  Four of the nine young farmers this year are from Queen's University and will have the opportunity to spend 12 months getting to know every part of the supply chain – from farm to front counter – to kickstart their careers in the industry.
Nina Prichard, head of Sustainable and Ethical Sourcing at McDonald's UK & Ireland, says: "This has been a challenging year for farmers so we wanted to shine a light on the incredible work farmers do across the UK and Ireland to produce the quality, local ingredients for our best–loved menu items. These farmers are our most essential ingredient – the local heroes who work tirelessly to deliver quality produce for our delicious menu, day in, day out.
"We know our customers expect a quality experience every time they order from us, which is why today, we've launched our new Map My McDonald's tool, which gives our customers the chance to meet some of our farmers and find out just how local some of our quality ingredients are."
The launch of Map My McDonald's comes as a quarter of people here report that they care more about the quality of the food in their meals than before lockdown. McDonald's customers can enjoy their favourite menu items knowing:
All McDonald's burgers are made using 100% British and Irish beef, sourced from over 20,000 farms, accredited by a nationally recognised farm assurance scheme, such as Red Tractor.

Every egg cracked for a McDonald's breakfast is free–range and RSPCA Assured, which has been the case for over twenty years.

Every drop of semi–skimmed milk in teas, coffees, porridge and Happy Meal® milk bottles is organic and comes from Red Tractor assured dairies.

Across its menu, McDonald's only serves 100% RSPCA Assured outdoor–bred pork and was the first UK restaurant to do so.
McDonald's franchisee Des Lamph, left, with local farmer Trevor Bamford