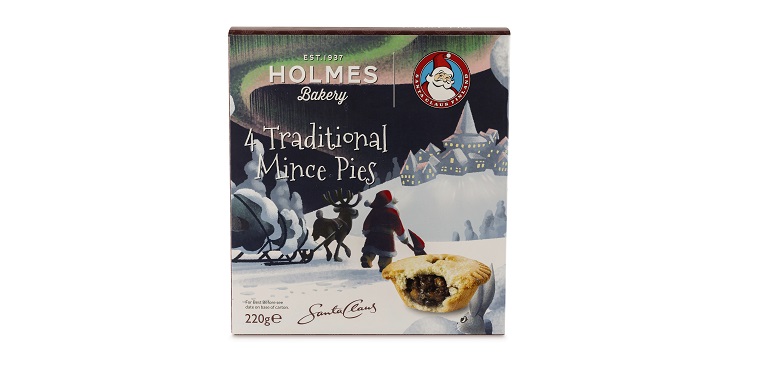 Armagh Bakery set to Grow with Aldi this festive season!
One of Co. Armagh's most innovative food and drink producers has won a new contract to supply Aldi's 144 stores through its Grow with Aldi supplier development programme over the Christmas period! Grow with Aldi Festive was launched back in August, and Aldi put the call out to small and medium suppliers across Ireland, to get in touch with them if they'd like to see their products on the shelves over the Christmas period. All products will be in 144 Aldi stores nationwide from Sunday, 15th November while stocks last.
Holmes Bakery of Craigavon has successfully won a place on the Grow with Aldi Festive programme with their product Santa Mince Pies €2.99 per pack.
Commenting, Gillian Castle of Holmes Bakery said: "To have our Santa Mince Pies recognised by a global retailer like Aldi is fantastic. Grow with Aldi Festive provides huge exposure for our brand and lets us reach more shoppers than ever before and all during the busiest shopping period of the year! We can't wait to see our product on shelf soon!"
The winners of Grow with Aldi Festive are:
Quaid Candles (Castlemahon, Co. Limerick): Christmas Spice and Lemongrass scented Wax Melts - €3.49 each (in-store 19th Nov)

Velo Coffee (Ballyvolane, Co. Cork): Blas na hÉireann Gold and Bronze Award winning Coffee - €3.99

Velo Coffee El Salvador – Gold Blas na hÉireann award-winning

Velo Coffee Ratnagiri Estate – Bronze Blas na hÉireann award-winning

Irish Atlantic Seasalt (Cahermore, Beara, Co. Cork)  - €2.49 each

Mella's Fudge (Clonakilty, Co. Cork) Christmas Spice - €4.42 each

Rebel Chilli (Cork City) Rebel Chilli Sauce - €3.79 each

Rebel Chilli (Cork City) Jalapeño & Raspberry Sauce - €3.99 each

Porter & Nash (Bray, Co. Wicklow) Original Gravy - €3.29 each

Metalman Beer (Waterford City, Co. Waterford) Metalman Pale Ale - €2.50/330ml

Holmes Bakery (Craigavon, Co. Armagh) Santa Mince Pies - €2.99 per pack

Kookee (Dundalk, Co. Louth) Spotai Chocolate Chip Cookie Mix and Double Chocolate Chip Free From Cookie Mix - €3.59 each

Jinny's Bakery (Drumshanbo, Co. Leitrim) Irish Stout Bread Mix - €3.65 each

The Popcorn Factory (Coleraine, Co. Derry) Candy Floss - €1.26 each
Grow with Aldi Festive has also seen Aldi sign up its youngest ever supplier in Evan Quaid from Quaid's Candles in Limerick who is just 16 years old and runs the business with his father John.
Since the Grow with Aldi Supplier Development Programme launched in 2018, over €2.5 million has been invested by Aldi to bring innovative, exciting and tasty Irish products to the shelves of all 144 Aldi stores nationwide.
Commenting, John Curtin, Group Buying Director at Aldi Ireland said: "From coffee to kombucha, and chilli sauce to candy floss, a wide range of excellent Irish producers have benefited from the Grow with Aldi supplier programme over the past three years. Support for Irish suppliers is more important than ever and our long-term commitment to the Irish market at Aldi has never been clearer. We would like to congratulate the winners of the very first Grow with Aldi Festive – they represent the very best of Ireland's food industry and we are looking forward to seeing these products on shelves over the Christmas period. With all that has happened worldwide over the past few months, there couldn't be a better time to be buying more Irish."
Tara McCarthy, Bord Bia CEO, said: "After a massively turbulent year, now is the time to be supporting Irish producers. Retail programmes like Grow with Aldi Festive not only helps to meet that consumer demand for Irish products, but it also supports small and medium Irish suppliers as they develop the skills and capabilities their businesses need in the current climate. Congratulations to all of the winners."
Developed in partnership with Bord Bia, Grow with Aldi supports small and medium sized Irish suppliers to gain exposure and experience with a major retailer in Ireland.  Suppliers receive tailored mentoring, workshops from the Aldi Buying Team and Bord Bia technical experts, teaching them the skills to help grow and develop their product, brand and business.
Now more than ever is the time to be supporting small Irish businesses and the Grow with Aldi Festive products are perfect to enjoy at home or send to a loved one this Christmas.