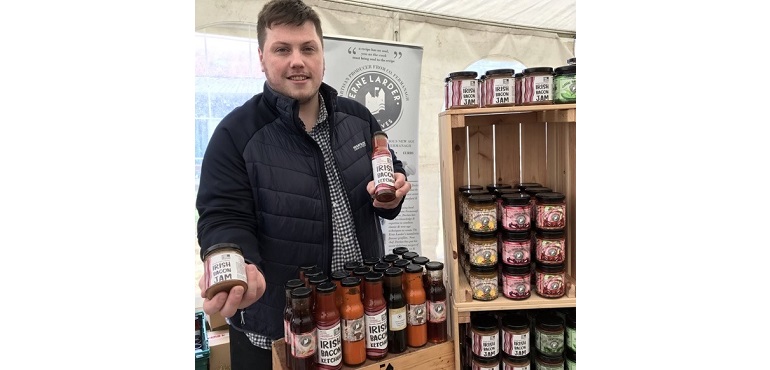 First US deal for Erne Larder Preserves in Northern Ireland
Erne Larder Preserves, an artisan producer of sauces, relishes and jams in Northern Ireland, has won its first export business in the US.
The new deal will see Erne Larder's popular products featuring in hampers being distributed by a recently launched New York-based food business.
Erne Larder, based in Enniskillen, county Fermanagh, has recently shipped its successful Irish gin and cranberry relish, Irish bacon ketchup and Irish stout onion jam to Over The'Eire for inclusion in its Christmas hampers for customers across the US.
Declan O'Donoghue, the managing director of Erne Larder, says the business followed a contact from Steph McCrory, one of the founders of the New York food business. "Steph, who is originally from Enniskillen, had been told about my products by a friend from Ireland. She checked our website and decided on our unique Irish gin and cranberry relish would be perfect for their Christmas hampers and also ordered our Irish stout and onion chutney, and Irish bacon ketchup.
"She then placed an order for the products. We are delighted to win this breakthrough business which will add a bit of a 'kick' to Christmas meals around the US, a market we've be keen to penetrate for some time. There's the prospect of further business there for the relish and our other artisan products especially our very successful Irish bacon jam," adds Declan, an experienced chef who has won widespread acclaim for the original recipe products.
The small company has already won significant sales in Britain and the Republic of Ireland for its range of premium quality products. Erne has a strong base in Northern Ireland and is already supplying most delis and artisan food shops as well as leading retail chains such as Eurospar. It has also supplied both Aldi Ireland and Lidl.
Mr O'Donoghue established Erne Larder in 2017 on the back of a successful career that included creating original sauces for meals in hotels and restaurants across the island of Ireland and in Scotland over 20 years. His original product was a unique smoked Irish bacon ketchup which was quickly followed by the Irish bacon jam.
The successful smoked bacon jam followed approaches from hotel chefs for such a product for use in dishes and with cheese. "I've always been interested in making my own food products and decided to start with a range of unusual jams and chutneys," he adds.
A key element in his approach is a focus on locally-sourced ingredients. "There are so many excellent products available across Northern Ireland that can be used to create innovative and tasty products," he adds.