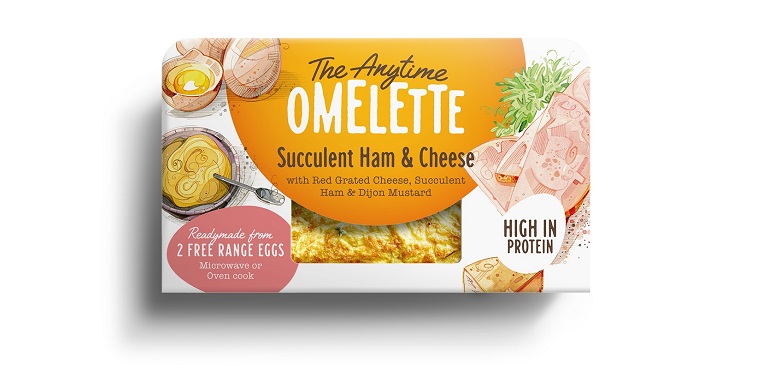 Anytime Omelettes from Clarke Millar Foods wins Musgrave business
Northern Ireland's Clarke Millar Foods has won its first significant business in the Republic of Ireland with a deal to supply its innovative Anytime Omelettes.
The company, owned and run by experienced food entrepreneur Clarke Millar, has won business with Cork-based Musgrave Group for its recently launched Anytime omelette product, a convenient product made with free range eggs. The small company is based at Dunmurry, near Belfast, and also provides distribution and marketing services to other food companies.
Musgrave is now including the Northern Ireland company's Succulent Ham and Cheese Anytime Omelette. Musgrave Group, one of Ireland's leading grocery retail and wholesale, operates almost 1,500 stores. SuperValu, for example, serves almost three million customers every week at over 220 stores.
Mr Millar, commenting on the new business, says: "The deal with Musgrave Group is the outcome of my focus on the Republic of Ireland for growth. It gives us an immensely important springboard there for our omelette product, is an immensely exciting development for the business.
"Buyers at Musgrave Group sampled the omelettes and were impressed with their quality, convenience and eye catching packaging.
"The Anytime Omelette is the outcome of extensive market research by the marketing team and our new product development unit which came up with the recipes based on contacts with consumer focus groups and subsequent taste tests.
"All the omelettes use local ingredients especially the eggs. Each pack is made from two range eggs and can provide a quick and convenient meal or snack in a few minutes using an oven or microwave. The omelettes are also high in protein," he adds.
While Musgraves has initially listed the Anytime Succulent Ham and Cheese Omelette, the Northern Ireland company has developed a range that also includes Chicken and Bacon; Tasty Vegetarian; Smokey Chorizo and Cheese; and Sausage, Bacon and Cheese.
The company also recently gained significant business in Britain through a deal with discounter Poundland for its Zumi branded orange drink and with Amazon for its Millar Moo milk flavoured drinks in recyclable glass bottles.
Mr Millar formed the company in 2012 to manufacture convenience foods in particular and also to provide contract manufacturing and distribution services to other producers. He has developed a successful track record in convenience foods with his Mulligan's branded burgers, hot dogs and his wraps including chicken which recently secured business with Sainsbury's in Northern Ireland.
Many of his products including wraps, Zumi and Millar Moo have been listed by the Henderson Group, operator of Spar and Eurospar in Northern Ireland.