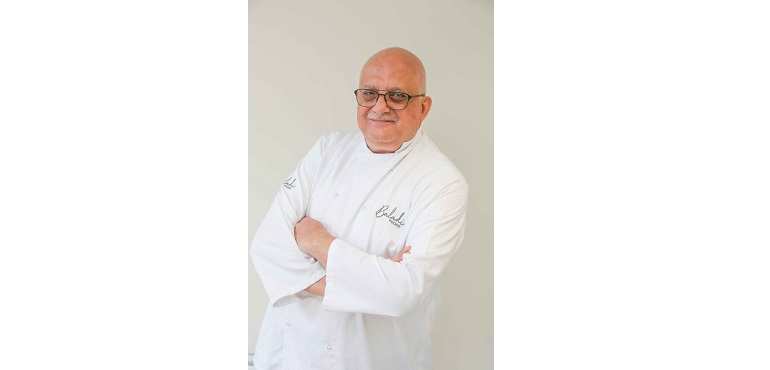 Sales of Hani's authentic Mid East hummus triple
Carrickfergus businessman Hani Muhtadi has seen sales of his authentic Palestinian hummus, a Middle Eastern dip, spread or savoury dish, more than triple during the coronavirus pandemic.
Hani, founder of the Hummus by Hani artisan enterprise in 2018, attributes the exceptional growth in sales to people here seeking tasty and healthy treats for meals at home during the lockdowns.
Spiralling sales have also led to jobs for two staff on a part time basis over the past year and encouraged the experienced businessman, who previously worked in top marketing management with a major international engineering business in nearby Larne, to seek bigger premises for expansion.
"I need the new premises as soon as practicable to enable me to meet the growing demand for the product and to provide scope to increase sales further and also to introduce new hummus flavours I have been planning over the past year," he explains.
"Hummus has become very popular at the delis I supply here and also through my website," Hani says. "I've spoken to staff in the delis and smaller grocery stores as well as individual customers who have told me about the trend towards different and healthier eating. Hummus is packed with vitamins and minerals. Research suggests that hummus could help fight inflammation, improve blood sugar control, improve digestive health and blood sugar," he adds.
Hani continues: "Hummus, furthermore, is a very tasty accompaniment for grilled chicken and fish and an essential element in a delicious and healthy Mediterranean mezze platter of vegetables, bread and cheese. It's also ideal for vegans. I make it by hand from olive oil, a few whole chickpeas, parsley, and paprika.  It's based on an old family recipe from my home in Jerusalem. Hummus in Palestine and other parts of the Middle East is usually eaten as a dip, with pita bread," he explains.
Married to Sandra, who was born in Co Antrim, and with three grown up children, Hani decided to make his own hummus because he couldn't find a product here with the same quality, texture and especially the rich taste he enjoyed at home in Palestine. "Hummus is always on the table in Palestine and other parts of the Middle East," he continues.
Not widely used or appreciated in the UK and Ireland, chickpeas, for example, are popular in the Middle East and India particularly in salads, soups, stews and curries. They are said to be nutrient dense, rich in protein, dietary fibre, folate and minerals especially iron, phosphorous, thiamine, vitamin B, magnesium and zinc. Hummus is sometimes served with tortilla chips or crackers outside the Middle East.
An experienced sales professional and marketer who has worked extensively in the Middle East and the UK, Hani has been busy promoting and selling his hummus around Northern Ireland.
"While I hope soon to be selling in the Republic of Ireland, I've still a lot of work to do in Northern Ireland to explain the benefits of hummus to local people. Many, of course, have tried it on holidays especially to destinations such as Egypt, Tunisia, Cyprus, Lebanon, Jordan and Israel and know what to expect.
"There's still plenty to do to increase awareness about the taste and health benefits of hummus," he adds. He's also had approaches from Birmingham for the product.
Hani Muhtadi, the founder and managing of Hummus by Hani in Carrickfergus has seen sales of his authentic Middle Eastern hummus more than triple during the pandemic