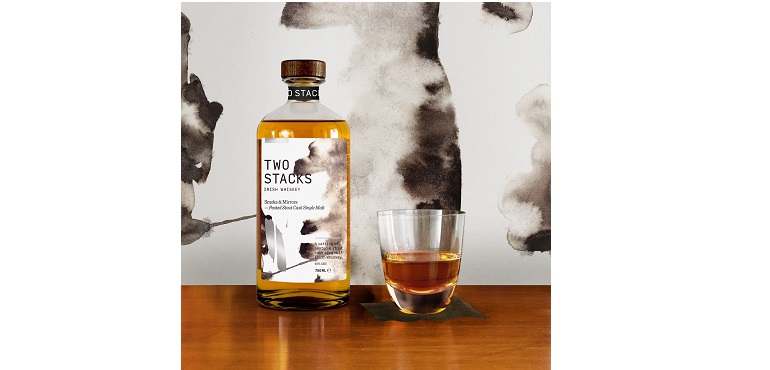 Two Stacks launches first peated single malt
Two Stacks in Northern Ireland is continuing its modern take on Irish whiskey heritage with its first Peated Single Malt
Two Stacks Whiskey's Smoke & Mirrors draws on traditional secrets and innovation. Individually bottled and bonded out of Killowen Distillery in county Down it combines the best in Irish brewing and distilling. Contemporary and classic, Two Stack's modern malted peat combinations echo traditions dating back 200 years
Smoke & Mirrors is the result of a multi-year collaboration with artisan Irish producers – bringing together the experience and expertise of Ireland's top brewers and distillers into one high-end premium product.
Drawing on an Irish whiskey heritage dating back to the 1800s, Smoke & Mirrors is 30 percent peated malt – peating being the focal point of a whiskey brimming with flavour yet soft and joyful on the palate. To achieve this, Smoke & Mirrors derives its silky texture from 10 percent double malt, 30 percent peated malt and 60 percent of what we like to refer to as ''stout'' malt. The liquid was distilled and aged at Great Northern Distillery in Dundalk, county Louth before being hand bottled at Killowen Distillery in county down.
The release of Smoke & Mirrors follows on from the July 2020 release of Two Stacks' Blenders Cut and First Cut, both of which revived a tradition of independent bonding, blending and bottling once commonplace across Ireland. Both sold out within days.
Director Donal McLynn says: "What we refer to as stout malt is malt whiskey (double or triple distilled) that has been finished in ex Imperial beer stout casks from some of Ireland's leading craft breweries. Making up the largest portion of the Smoke & Mirrors – Single Malt.
"We fell in love with the idea of combining both creative worlds. Its influence, immediate on the palate. Providing a silkiness to the malt before leaving a coco nib dryness in the finish.
''Smoke & Mirrors is both innovative in its crafting and age-old in its ingredients, providing a unique back-to-the-future premium spirt for discerning Irish whiskey lovers. The history in the use of peat in Ireland for malting purposes is foggy and can lead to inaccuracies. There is certainly strong evidence to support the claim that peat was used in the malting of barley in Ireland in the early 1800's, particularly in the north of the country where the love of Single Malt was strongest. The south too enjoyed the benefits of peat but things become even more foggy once mix mash bills are mentioned. Whatever the case, its popularity began to wane.
"The expansion transport networks and importation of cheap coal brought about the decline in the use of peat before it all but vanished in the distilling industry. Now, we are seeing a mini revival with a number of independent brands recently releasing peated expressions and for good reason: its complex sweet undertones have an ability to bind flavours together harmoniously breathing life into your glass."
Finding inspiration from what can be achieved using peated malt, Two Stacks has created something to entice the whiskey lovers to a new world of flavour. Striking the perfect balance between the sweet peated notes and dry chocolate flavours, its rounded off with those distinct vanilla notes and heavier oils from ex bourbon double distilled malt.
"We continue with our eye-catching water colour design, providing full transparency on the back label. The name 'Smoke & Mirrors' takes its inspiration from the reflective Smokey stout flavour that flows throughout the liquid and reflecting a label that continues to set a standard for transparency to the consumer.
Priced at €50.00/£45.95 respectively. Smoke & Mirrors will be available on Irish Whiskies DE, Germany, Ireland at The Celtic Whiskey Shop, Irishmalts and premium independent Irish off licences through Anzac Wine & Spirits.