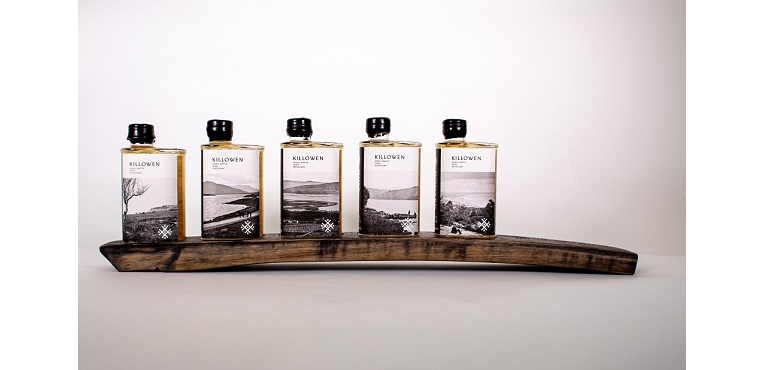 Very rare five-strong poitin set from Killowen Distillery reflects Ireland heritage
Killowen Distillery in Northern Ireland has launched a unique set of five very rare expressions of handcrafted poitin, that most traditional of Irish spirits.
Based in the Mourme Mountains, near Rostrevor in county Down, Killowen has launched 'The Cuige', a set of five premium peated poitín spirits in association with casks from five craft breweries including award-winning Whitewater in Castlewellan, also in county Down
Brendan Carty, Killowen's founder and managing director, says: "We believe that poitín should be put on a pedestal. As such, we made a peated poitín worthy of a hand-crafted pedestal, carved from a Killowen whiskey cask. Only 192 sets have been made."
The spirits, he continues, represent "Ireland's history and present, acknowledging her historical five provinces by finishing a unique poitín, in five different firkin casks from five select breweries, each representing those old provinces".
He continues: "The Irish word 'Cuige' meaning 'provinces' or 'Fifths' originated prior to the cessation of Meath as a province in the early 1600's.
"Those chosen breweries are: Dead Centre Brewing  representing 'Meath'; Mescan Brewery 'Connaught'; O'Brother Brewing ' Leinster'; Whitewater Brewing 'Ulster'; and West Kerry Brewery 'Munster'".
He adds: "This unique peated mash bill offers a little more oat than Killowen's core mash-bill, as a tribute to the integral part oat has played in Irish distillation history.
"After a 24-hour flame-fed, double-distillation, and worm-tub condensation, the spirit is laid in casks at full strength for 10 weeks, as is the maximum allowable time by law. Each bottle is painstakingly, hand-filled, hand-labelled, wax-dipped, and hand-written.
"Each set has its own unique rustic pedestal made from a Killowen cask stave which has been, heat-straightened, carved for bottles, engraved with the Killowen Cuige logo and wax finished. This release truly is 'Very Rare'. As usual, all your information is on the Killowen label."
The names and Images for each bottle come from different locations in Ireland carrying particular affection to Killowen Distillery, and places which Killowen think signify each cuige. 
Ulster: 'Donard' - The highest mountain in The Mournes - God's country
Munster: 'Mish' - The Slieve Mish range to the east of Dingle peninsula 
Connaught: 'Lutty' - A remarkably beautiful and remote part of Galway
Leinster: 'Duff' - Duff Hill - middle of the mighty Wicklow Mountains
Meath: 'Caillí' - Sliabh na Caillí - largest peak in Meath
Each brewery cask carries its own subtle taste notes: such as lemon, cheese, fig, coffee, cocao and wild berries. The casks from the breweries for the spirit are:
Dead Centre Brewing: Imperial Stout cask
Mescan Brewery: Westport Red Tripple cask
O'Brother Brewing: Dreamcatcher IPA cask
Whitewater Brewing: Belfast Black Stout cask
West Kerry Brewery: Carraig Dhubh Porter cask