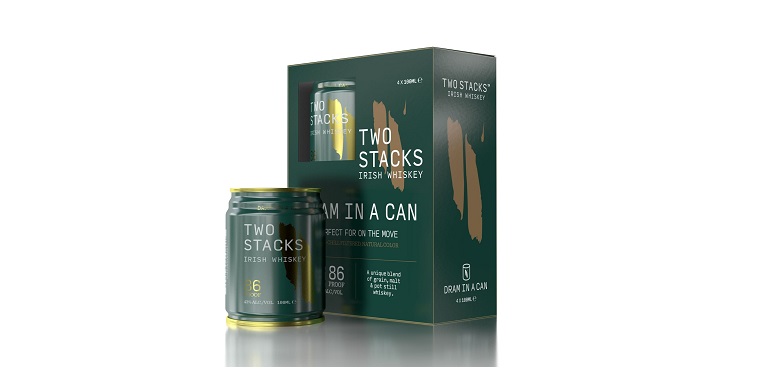 Unique Dram in a Can Irish Whiskey attracts US business
Two Stacks Irish Whiskey in Northern Ireland is releasing the world's first Irish whiskey in a can into the American market in March.
Dram in a Can is a 100ml, 86% can of Irish whiskey. The company describes it as a "complex blend of light and dark grain, pot still whiskey, and peated malt". The liquid was matured in ex-bourbon, Oloroso sherry, and virgin oak casks. It is one of the few Irish whiskeys to use peated malt in its blend.
"We spent a lot of this year in lockdown developing Dram in a Can," said Shane McCarthy, a co-founder of Two Stacks, along with Liam Brogan and Donal McLynn. "We want to offer access to premium Irish whiskey in smaller quantities - allowing more experimentation and sharing among friends whenever and wherever."
Belfast-based Two Stacks is an independent bonder, blender and bottler of Irish whiskey from various small batch distilleries including Killowen Small Batch Distillery at Rostrevor in county Down.
Dram in a Can will be available as of March 1st in packs of a four. The same blend will also be available as a full sized 750ml bottle, to be released at a later date.
Mr McCarthy continues: "We have continued to grow our business through a challenging 2020, carving out a number of new inroads over the past 12 months within the global export space, securing a large US trade deal that officially launches March 1st.
"It appears the US has got a big appetite for Two Stacks Whiskey products, making repeat orders on Two Stacks Irish Whiskey; Dram in a Can Irish Whiskey; and Two Stacks - Cask Strength Irish Whiskey.
"National roll-out on the products is well underway, with the whiskey now available across more than 40 states including California, Massachusetts, Minnesota, Texas, Illinois.
"All in time to celebrate St Patrick's this year, through an online festival, March 19th, bringing everyone together online with the Two Stacks whiskey team, local Irish bartenders, and musicians," he adds.
Dram in a Can initiative is the world's first for straight whiskey in a can. Other new markets opened by Two Stacks in 2020 include Kenya, the United Arab Emirates, and Russia which are pending first container orders being shipped in March 2021.