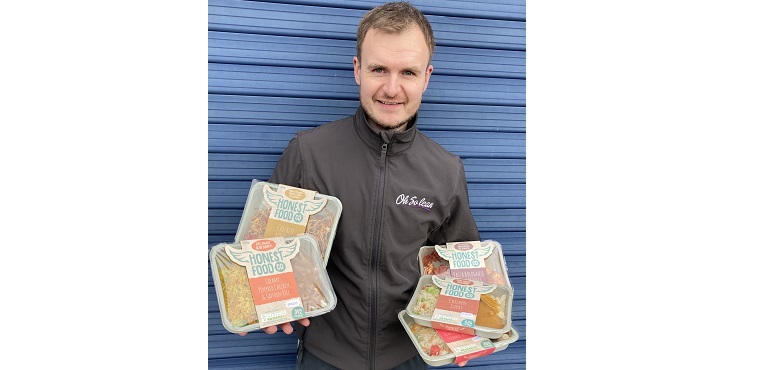 Honest Food that's honest by nature from local business
Honest Food Company in Kilkeel, county Down has launched restaurant quality and healthy ready meals from the freshest ingredients sourced from trusted suppliers. The new meals have been created by the small company without "hidden nasties" such as e-numbers.
The six meals in the initial range are all handmade in the company's development kitchen and are high in protein and low in fat, calories, saturates and salt. Honest Food is a new business run by Connor Morgan, a director of Oh So Lean, a longstanding supplier of healthy foods also based in Kilkeel.
Honest Food has already won business with Sainsbury's and SPAR in Northern Ireland for the innovative convenience foods, endorsing the quality and flavours of the meals.
The six meals launched under Honest Food branding with support from Invest Northern Ireland are: Chicken and Black Bean with Rice and Steamed Vegetables; Chicken Curry; Creamy Peppered Chicken and Saffron Rice; Cajun Chicken with Tricolour Pasta; Chicken Noodles; and Pasta Bolognese with Wedges.
All the meals are based on original recipes created by the team at Honest Food Company and produced and packaged there. The approach ensures the provenance and traceability of all the meals and ingredients.
Connor Morgan, commenting on the new business and products, says: "Honest Food is essentially an extension of the pioneering work of Oh So Lean, the business set up by Sean, my father, to meet the growing market trend towards healthier foods that are low in fat and salt.
"What we've done is to create a novel range of healthier ready meals influenced by demand from retailers and customers for popular dishes which are rice and pasta based such as chicken and black bean with rice and steamed vegetables, peppered chicken and saffron rice and Cajun chicken with pasta. The meals are Honest by name and honest by nature," adds Connor.
Honest Food was set up last year on the back of Oh So Lean's outstanding success with retailers in both Northern Ireland and the Republic of Ireland. The new business, which will see the creation of five jobs, has been assisted by economic development agency Invest NI.
Mark Bleakney, Invest NI's Southern Regional Manager, said: "We've worked with the team at Oh So Lean for many years and we're delighted to be able to help them kick-start this new business venture. Capitalising on the growing demand for healthy ready meals, our support has helped the company to hit the ground running, with assistance to purchase new machinery. The new machinery has been invaluable in helping it to meet the packaging manufacturing and shelf life requirements of leading supermarket chains. We're also supporting it to grow its team with five new staff which is a great development for the local area."
Oh So Lean was established by local butcher Sean Morgan in 2011 to specialise on foods free from gluten, dairy, soya and with no added sugar, as well as being low in fat and sugar. A low salt bacon has also been developed by Mr Morgan in his commitment to the creation of healthier foods. He dry-cures the bacon rubbing it by hand with salt and then uses a unique technique he has pioneered to remove the salt. The bacon is 50 percent lower in salt than the lowest currently on the market.
As a result of its longstanding focus on premium low-fat products, Oh So Lean has won a series of awards in the all-Ireland Gluten Free Awards. It's also a member of Gluten Free Ireland which has been campaigning to increase awareness of the health issues posed by allergens.
Mr Morgan set up the business in 2011 from a focus on developing low-fat meats, including steak, burgers and sausages, to help Connor control his weight.
The small business developed with the growing market demand for quality foods in line with trends towards healthier foods that were high in protein while being low in salt and fat.
The enterprise now employs (10) people in a small processing unit overlooking the harbour in Kilkeel, Northern Ireland's main fishing centre.