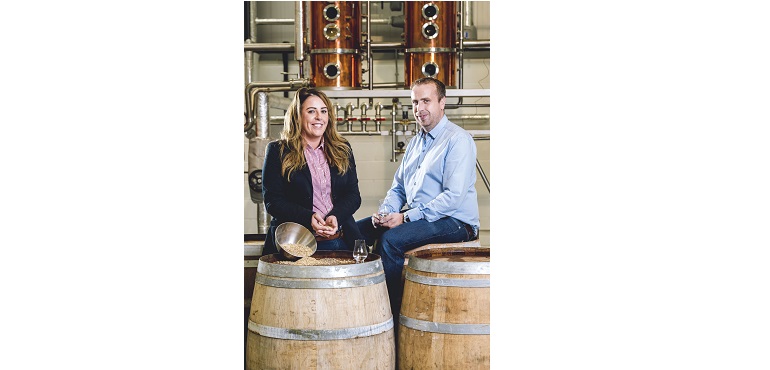 Key role in Irish spirits for Shortcross Gin's David Boyd-Armstrong
David Boyd-Armstrong, the joint founder and Head Distiller of Rademon Estate Distillery, home of multi-award winning Shortcross Gin, in Crossgar, county Down, has been elected for a two-year term as Vice Chairman of Drinks Ireland|Spirits, the representative body promoting and safeguarding the interests of the spirits industry in the Republic of Ireland and Northern Ireland.
Mr Boyd-Armstrong founded Shortcross, the first craft gin to be launched in Northern Ireland in over a century, with wife Fiona, the managing director, in 2012. The company, which has developed a purpose-build distillery and visitor centre with a popular programme of tours, has created a range of globally successful craft gins including the region's first pink gin, a range of cocktails and special editions using botanicals grown on the historic family estate.
The family-owned company has also created single malt whiskeys for launch later this year.
Mr Boyd-Armstrong joins newly elected chairman Bryan Fallon, managing director of Heaven Hill Ireland, brand owner of Tipperary's Carolan's Irish Cream Liqueur and Irish Mist Honey Liqueur, both owned by Heaven's Hill of Kentucky since 2017.
Drinks Ireland|Spirits was established in 1997 and acts as a voice to national and EU policy makers for issues such as taxation, trade and the ongoing international protection of Ireland's Geographic Indicators (GIs). Drinks Ireland|Spirits is part of Drinks Ireland, the representative organisation for alcoholic drinks manufacturers and suppliers on the island of Ireland.
Speaking about his appointment, Mr Boyd Armstrong said: "I am thrilled to have been elected vice chair of such an influential representative body for the dynamic and innovative spirits industry on the island of Ireland.
"I look forward to working with Bryan Fallon on initiatives which will support the growth of this important industry on the island and further afield. Our first task, of course, will be to help our members recover as quickly as possible from the coronavirus pandemic.
"I am confident that the industry will do so and return to sustainable growth in both short and long-terms. The achievements of companies in areas such as quality, flavour and creativity provide a strong base for such growth in sales, exports, new products and employment."
Head of Drinks Ireland|Spirits, Vincent McGovern added: "While a challenging time for the industry, I have no doubt that Bryan Fallon and David Boyd-Armstrong will bring their invaluable experience and expertise to the roles of Chair and Vice-Chair, and I look forward to working with them."