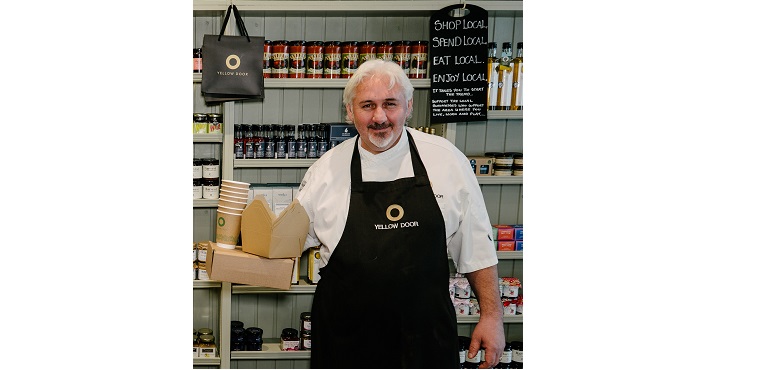 Northern Ireland food leader Yellow Door reduces plastic
Yellow Door in Portadown, part of one of Northern Ireland's leading catering and food businesses, has joined other organisations successfully reducing their plastic footprint, despite the Covid-19 pandemic
Yellow Door is backing local environmental charity Keep Northern Ireland Beautiful which is reaching out to the food industry across Northern Ireland to tackle pointless plastic. 
It's encouraging businesses to complete the 'Tackling Plastic Business Toolkit' – a five- step guide that can help businesses to navigate reducing their commercial use of plastic.  Steps are designed to showcase businesses efforts by creating a straight forward action plan, saving organisations money and helping to limit plastics entering the environment. 
Yellow Door is one such business that has successfully completed the toolkit. The popular family deli and catering business has made sizeable sustainable strides, even during the Covid-19 pandemic.
The Portadown location has taken steps to remove nearly all single-use plastics and has found biodegradable alternatives where possible. Changes include switching from plastic-lined takeaway cups to 100 percent compostable cups. It demonstrates that despite trading uncertainty, it's possible for the hospitality industry to make more sustainable supplier choices.
Businesses who complete the toolkit receive an official certificate and sticker to promote them as a 'Tackling Plastic Business' – demonstrating their commitment to helping the environment.
Richard Wright, manager at Yellow Door, says: "As a business, we've been tackling our plastic use and replacing single-use plastics and packaging with alternatives such as compostables and recyclables for quite a while.
"It's something that our customers have noticed and are really appreciating. More companies are beginning to offer a greater range of these more sustainable packaging alternatives, and whilst they are a bit more expensive, it's worth it to know we are doing our bit," he adds.
There's now a greater awareness of sustainability within the food industry. After a successful launch in France in 2020, the Michelin Guide will be introducing the Green Clover Award into the Michelin Guide Great Britain and Ireland 2021. This award will celebrate a restaurant's commitment to sustainability through production methods, sourcing and waste management. This includes conservation of resources, managing food waste and recycling efforts. The Michelin Guide has praised restaurants for their continued sustainability efforts despite the huge challenges faced by the hospitality industry.
Simon Dougan, Yellow Door managing director, adds: "No-one can be in any doubt that we are facing into a climate emergency. As well as supporting sustainable supply chains, as an industry we need to do our bit to ensure we are as sustainable as possible in every area of the business. Last year we joined the Sustainable Restaurant Association and despite the year we have had we're determined to keep implementing sustainable changes."
Claire Hudson, Tackling Plastics coordinator at Keep Northern Ireland Beautiful, says: "Since we issued the Litter Composition Report in March 2019, we have had an influx of local businesses, food industry in particular, seeking advice on changes they can make to join the effort to tackle plastic.  In response, we created this toolkit that gives businesses the tools they need to understand how they can make changes for the better as a business and as a member of our community."
Claire continues: "The templates provided help businesses audit their current situation and highlight where change is needed – it then rewards their efforts, helping to promote to customers and other businesses that they are joining this fight and evoking change. It is our vision that every business in Northern Ireland will download this toolkit and even in the smallest way – strive to eradicate pointless plastic."
Many of the offending items identified in a recent Litter Composition Report 2019-20 commissioned by Keep Northern Ireland Beautiful were linked to food industry such as single-use plastic bottles, takeaway cups and confectionary wrappers. There are up to 1.3 million littered items on Northern Ireland's streets at any one time, with 71% containing plastic*. The toolkit also has information on current EU Directives, examples of how to streamline businesses use of plastic and even how to create an Environmental Policy.