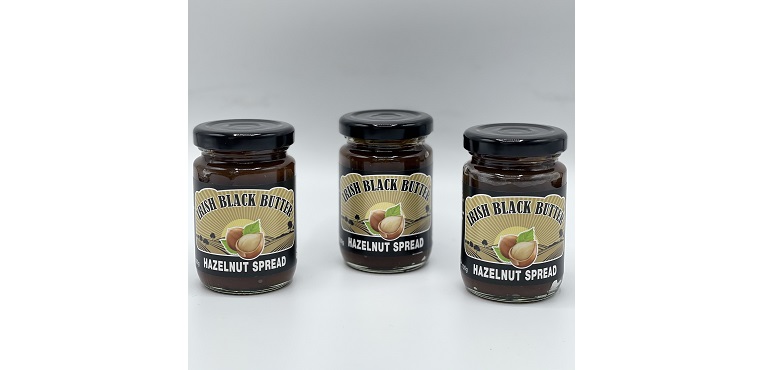 Novel hazelnut spread from Irish Black Butter
An innovative hazelnut spread has been developed by Alastair Bell, the entrepreneur behind the award-winning Irish Black Butter, a sweet/savoury product now sold in many parts of the United Kingdom, the Republic of Ireland and most recently the US,
The new hazelnut spread, based on the successful Irish Black Butter, recently clinched its first sales outside Northern Ireland to a customer in Kent. "It's always immensely encouraging to win early business outside Northern Ireland with new product that's just launched.
"My current focus is on developing sales in Northern Ireland and in the Republic of Ireland for the new product which follows the launch a year or so ago of the peanut spread," he says.
"I am always keen to explore opportunities to create new spreads which will expand the range of our innovative nut-based products. This approach is in line with the overall focus on the nutritional value of nuts and other plant-based foods.
"The hazelnut spread is the outcome of extensive and successful taste tastings which proved the popularity of the new flavour. It's a much lighter spread than the peanut and has a distinctively delicious flavour," he adds. The new hazelnut spread is produced in 100g jars.
The Portrush-based businessman, who captured the imagination of judges on the successful BBC2 show Dragon's Den with his Irish Black Butter, achieved the coveted three-stars endorsement in the UK Great Taste Awards and as chef's larder choice in Blas na hEireann, the Irish Food Awards in Dingle, Co Kerry for the original product.
"The new hazelnut spread is made entirely with the nuts and Irish Black Butter and nothing else," he continues.
He founded Irish Black Butter Company in 2017 using Armagh Bramley apples and other ingredients such as spices with a touch of brandy.  He created the original Irish Black Butter to harness the potential of Bramley apples from Armagh's 'Orchard Country' as an ingredient.
The black butter developed into a popular tourist gift product and is also being used as an ingredient for ice cream, a flavouring for cured meats and biscuits, and accompaniment for cheese. 
Mr Bell, commenting on the new spread, adds: "I also developed the new product in response for retailers and consumers seeking additional black butter flavours. Hazelnut was an obvious choice."